admin | May 04, 2015 | Comments 0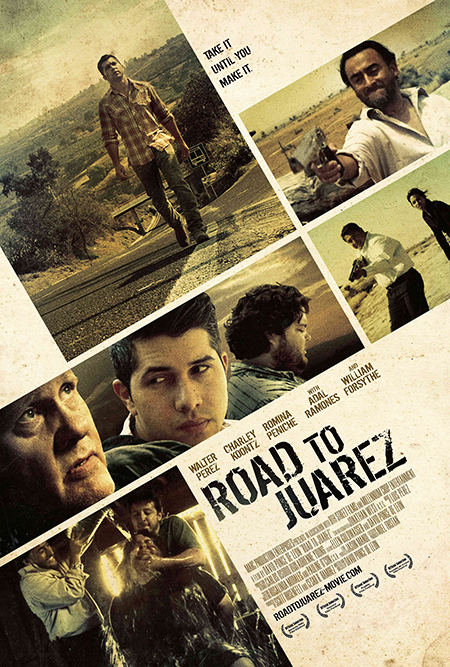 El pasado 23 de abril se estrenó la primera película del director David Ponce de León titulada Road to Juarez. Un thriller mejicano – americano con reparto y diálogos bilingües que la convierten en una inquietante producción basada en hechos reales.
Inspirándose en el particular y complejo estilo cinematográfico del gran Quentin Tarantino, Road to Juarez narra la historia de un joven que para salvar la vida de su padre se ve involucrado en el peligroso tráfico ilegal de pieles exóticas. Acción, drogas y amor en grandes dosis que dejan al espectador exhausto y sin ganas de pisar una carretera.
Para Todos Magazine tuvo la oportunidad de asistir a la premier celebrada en el Teatro Frida de Santa Ana y entrevistar a Ponce de León.
¿Cómo te lanzaste a hacer una película como esta?
Quería hacer una película sobre un tema que está ocurriendo ahora, que es el comercio ilegal de pieles exóticas que produce millones y millones de dólares al año. Quería dar la vuelta de una situación negativa que siempre estamos oyendo sobre Ciudad Juárez en algo positivo. Porque esta película no es sobre los secuestros que ocurren en allí, sino que es sobre algo muy diferente y más profundo.
¿Cuál crees que es el mensaje principal de la película?
Esta película toca varios aspectos, varias temáticas. Para mí fundamentalmente es la historia de un chico que intenta salvar la vida de su padre. Siempre hemos estado en situaciones que nos han conducido quizás a hacer cosas incorrectas pero por un propósito correcto o bueno.
¿Qué fue lo más difícil a la hora de producir Road to Juarez?
Lo más difícil de esta película ha sido terminarla, por eso he tardado 5 años . Sin duda la parte del "marketing" ha sido mucho más difícil que rodar cualquiera de las escenas.
¿Tienes pensado rodar otra película?
Sí, aunque no puedo decir mucho sobre ella, sé que será muy diferente. Gracias a Dios no me puedo quejar y puedo vivir de lo que realmente me gusta hacer. Tengo también más proyectos y trabajo haciendo anuncios publicitarios o videos musicales.
¿Cuál es tu mayor sueño como director de cine?
Mi sueño es llegar a hacer una película que sea un éxito de taquilla pero también de crítica. Es muy difícil pero ese es mi sueño. Una película que realmente cambie cosas, que tenga un impacto social.
Por Pilar Blanco
[youtube]https://youtu.be/QjpFMo9fzPE[/youtube]
Filed Under: Cine • Entretenimiento
About the Author: