admin | Jun 24, 2019 | Comments 0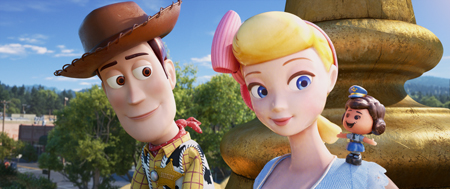 Toy Story 4 has officially hit theaters and all of your favorite characters have returned along with some lovable new characters. We sat down with actress Ally Maki who does the voice of Giggle McDimples, a miniature plastic doll who oversees the tiny town of Miniopolis along with her best friend Bo Peep. Audiences were first introduced to the world of Toy Story in 1995, and over two decades later, the franchise has returned with a road trip adventure that leads Woody on a journey of self-discovery.
You have been working on Disney projects throughout your career, and landed the role of Giggle McDimples in Pixar and Disney's Toy Story 4, how does it feel?
I can't believe it. It's crazy! I'm still trying to process everything, it's just so unbelievable because if you look back to my 14-year-old-self if you told me that this would be a reality one day, I wouldn't believe it. To have this happen is such a dream and it has been incredible every step of the way. I think many times you don't want to hit your bucket list items because you never think it will be as good as it will be, but this has been not that, it has exceeded beyond anything I could have ever hoped and I'm just so grateful, honestly, I feel so lucky.
How does this project stand apart from all your accomplishments in acting?
I think this one in particular, is so important to me because I was such a fan of the films. These were the films of my childhood. I was 9 when the first film came out and it has been a part of my entire life. Not only to be an actress in the film but to be a fan of the film and to be in one, is just the ultimate culmination of all of my dreams coming true. It's really a cool feeling. To have kept to myself for the last three years because of NDA's and having to keep it all secret, I felt like I had this really special imaginary friend for three years that only I knew about with Giggle McDimples. All of a sudden, one day I woke up and she was on every billboard and every bus stop station and it was when my character finally came to life for me and everyone is getting to know her and love her, it's just the craziest feeling.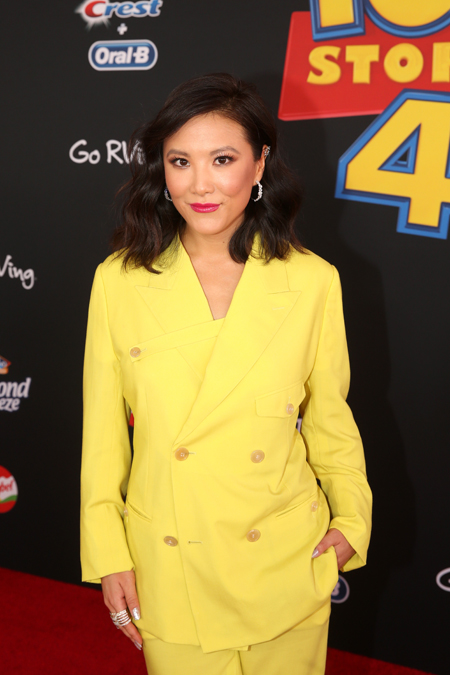 How did you land this amazing role in Toy Story 4?
I actually got a letter from them! I just got this letter from Pixar that said "Dear Ms. Maki, we want you to be in the film," and I thought to myself how amazing it would be to simply have a few lines in the film, but over the last three years the part kept growing and growing, I still can't believe it!
What did you enjoy most about working on this project?
Honestly, I loved it so much. You go into it, and you're given nothing beforehand, so you have about a 30-second window to make a choice when you're in the recording booth. I think that is what I enjoyed the most because I went back to the root of why I loved performing in the first place. It's 100% imagination based, and you're going off of your truest intuition and that's what I enjoyed so much about the process. It was also fun when they would say "go to a level ten" and I would say "Really?", and then they would ask me to go to a level twelve. This is the only job in the world that I am allowed to go to a level twelve.
What do you enjoy most about being a part of the Disney family?
I honestly feel so lucky because I am such a fan of the message and motto that Disney and Pixar emote in every way. Everything about them is love and family and creating good inspirational content, and that is what it is all about. To be raised on all those messages was very important to my upbringing. I remember watching Mulan as a child and telling myself "maybe I can be powerful". To be raised with all these powerful role models and to now be a part of this property, is mind-blowing to me.
What would you consider one of the biggest lessons you've learned in the industry?
I think the main thing for me that I have learned throughout this entire career is the greatest way you can achieve your dreams is by being 100% yourself. The things that I thought were weird or that made me different are the only reasons why I have any sort of success. The more I lean into those differences, the further I get, and the happier I become. The more I try to be not myself, the worse it goes. All of the doors that have unlocked for me, have been when I was being 100% myself. Even with Toy Story 4, I booked it by making a YouTube video that I just wanted to make.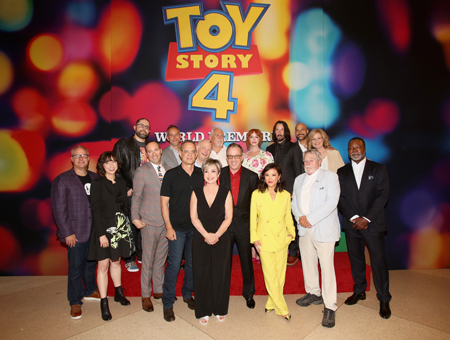 This moment in your life even sparked romance! Congratulations on your engagement!
Oh my gosh, so crazy! Talk about a crazy day! I had already had the craziest day of my life and to go through that on top of the experience was just a culmination of everything. Trav (Travis Atreo) my fiancé, basically had said that he had read a Pixar book about how the company was formed, and he was very inspired by it because of the entire message Pixar projects. So many families have been created through the Toy Story decades of films, and he felt like it was a perfect new beginning to this new chapter for us. He had been messaging the director weeks before and they were all a part of the proposal, the whole energy surrounding the moment was very special.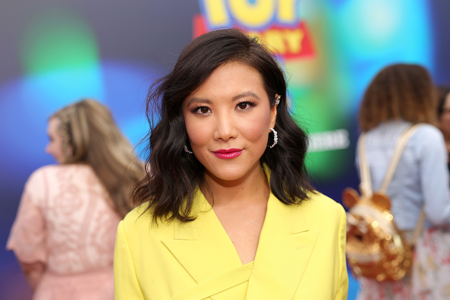 Talk to me about how diversity has evolved in Hollywood since you began your career…
We're making such huge strides and it's so important to me, it's also very exciting for me. Especially for Asian-Americans, this year specifically has been monumental in so many incredible ways and I think the next step is just the normalization of all of our stories. I think characters like Giggle McDimples in Toy Story 4 will only help that, because we need to see different variations of women, we need to see different variations of women of color, and Asian-American women within that, it is so important.
What do you love most about your Japanese heritage?
I had never been to Japan up until two years ago, and it really changed my life. When I walked into the middle of the crossing in Shibuya I just broke down into tears, and I didn't know what it was, but I think there is something about being where you are from. I understood myself on such a different level, why I react the way I do, why I am the way I am in so many different ways. To be fourth-generation Japanese-American, living what my great grandparents traveled to this country for feels so beautiful, I feel so insanely proud. I do all of this in their legacy and I feel like I continue to use my voice in their memory.
What message do you wish you could give your younger self?
I think I was just really struggling with my identity, I had no idea who I was and I wasn't sure how to find it. What I have learned the most is that the journey is the most important part. I look back at how hard I was on myself in my 20s and realize how important that time was, I would not be who I am today without those hard times, without those moments on the floor when I felt like nothing was going right and that I would never work or be understood. Those moments in life truly define you and make you realize who you are meant to become.
Filed Under: Entertainment • Film • The latest
About the Author:
Comments (0)