admin | Jan 13, 2011 | Comments 0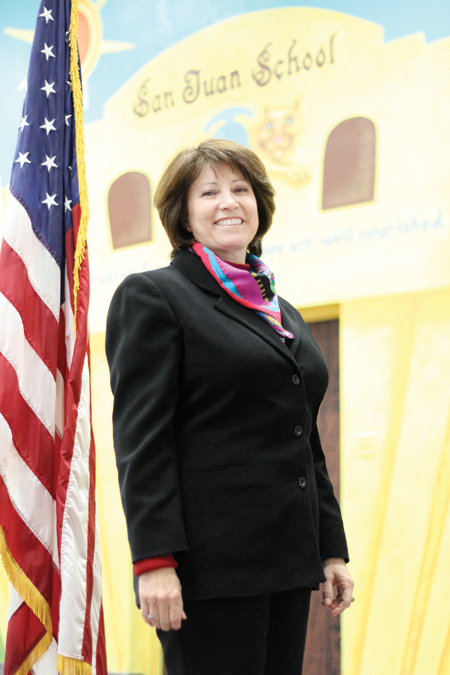 Principal of San Juan Elementary, celebrating the school's 160 years of non-stop service to the community
By Silvia Ichar – Photography: Francis Bertrand – Translation: Raul Verduzco
Calm in appearance, Silvia Mazzeo Pule has demonstrated to be strong and tenacious throughout her professional life. Silvia has worked at the Capistrano Unified School District for more than 20 years, and since 1999 she is the Principal to San Juan Capistrano Elementary School, one of the oldest schools of the district, dating back from its foundation in 1850. Many students have passed through its classrooms, and Silvia Pule is inviting teachers, alumni, and friends of the school to participate in the commemoration of the school's 160 long, fruitful years; especially on March 25th, 2011, for the Bell Ceremony and Alumni reception, and on April 29th, for the Time Capsule Festival and Ceremony.
Today, Silvia Pule serves at several boards and Non-profit Organizations, like the San Juan Task Force and the Rotary Club. She has received numerous awards, such as the U.S. Department of State Fulbright Award in 2007, the California State Academic Performance Index (API) Growth Award in 2001, the California Distinguished School Principal in 1999, the Seal of Excellence Award in 1998, among others. Silvia Pule acknowledges that the success of the Two-Way Language Immersion Program, and at school in general, lies on the quality of the highly professional and responsible people that works with her.
"I have known Silvia Pule for 25 years, I have worked with her in the School District; it was really impressive with the way she interacts with people. She's a brilliant, conscientious woman. She gets along very well with people, and has brought a great reputation and stability to the school. Her leadership is pure gold. Our schools are very fortunate to have a leader such as her."—Dennis Flynn, Retired Principal and Administrator from the school district.
"My Father, Domenico Mazzeo, was born in Italy, but my family migrated to Argentina. My mother's family was from Galicia and decided to migrate to Argentina, but they stopped in Cuba, where my mother was born. When she was 5, her parents finally decided to finish their journey to Argentina. In Buenos Aires, my parents met, got married and created a very typical Argentinian household, between an Italian man and a Spanish woman. First my brother Edgardo was born, and two years later, me. My father was a well-known tailor that learned the profession with his father, who had an haute-couture business in Downtown Buenos Aires. He was very proud of his business, but the economy made it difficult for him to upkeep it. We lived in a house on Juan B. Justo Avenue, right next to my mother's parents. When my brother was 14 and I was 12, our parents decide to move to the U. S. in order for us to have a better future. My mother, with her outstanding strength and determination, managed to sell all of our possessions, say goodbye to the family, and encourage us on this uncertain, but promising future awaiting for us," says Silvia.
Without looking back, the family moves to the land of opportunities, with no other reference but the name of a person that was already living in Santa Ana, California.
Did you have any relatives or friends here?
My dad's best friend's sister, and her husband, lived in Santa Ana. Through her husband's job, they were able to help us financially, since they knew my dad would soon find a job as a tailor, because it was one of the professions the country needed, according to the immigration lists.
The family arrived in the U.S. and stayed in this generous couple's home for several weeks. As it was expected, Silvia's father soon finds a job, they rent a house and, almost immediately, start to attend night school to learn English. The only member of the family that had previous knowledge of English was her brother, so he became the official family translator.
Silvia was placed on fifth, rather than fourth grade, on Spurgeon Elementary because of her level of knowledge, and her brother attended middle school. "I used to carry a Spanish-English dictionary with me all the time," she recalls. She also remembers that the Principal used to push her to read the Readers' Digest in English, for her to practice. She learnt English really fast and finished the year with good grades. By the time she entered McFadden middle school, the family bought a house in south of Santa Ana, close to her school. His brother was attending Santa Ana High School. His father was working for May company in South Coast Plaza, and was able to provide everything the family needed with his job.
How was, for your mother, the process of adaptation to this new world?
Mom was very close to her folks, she must have suffered a lot, but she sacrificed everything because she and dad knew that we would have a better future here. She was actually the one who made the decision of us moving here. While here, aside from taking care of the family, she sold Avon products from home. My parents are my heroes.
Silvia Pule went to high school in Santa Ana, and had very good grades. She got involved in all the activities the school offered. She was a member of the Honor Society and graduated fourth among the whole school. She was elected Homecoming Queen, and that helped her to be more secure and to get rid of her shyness. Silvia was and still is a perfectionist, and she is very self-demanding. She got several scholarships and managed to attend UCI, but she had a hard time reading and writing so many reports in English. She regretted not having had more rigorous teachers in high school who would've forced her to learn more grammar. With very hard work, she graduated.
"All these struggles have helped me on my profession; I know how hard it is to be proficient in another language, to develop a wide vocabulary and good pronunciation. I put my experience into practice every day, in order to remind my students and teachers how important it is to be well prepared.  Learning grammar and a vast vocabulary during childhood is ideal," she asserts.
During the four years she spent at UC Irvine she waited tables at Marie Callender's; she was very popular at the "El Lago" dorm.  Every night, at closing time, the restaurant would throw away the cakes that were already cut, and Silvia would bring them for her colleagues at the dorm. Every night, they would anxiously wait for her to come back from work.
When Silvia was in high school, she met a boy and they started dating. He chose a career as a Police Officer, and eventually they got married and bought a house in the south of the county. After graduating from UCI, Silvia continued her studies in Administration.
Why did you study Administration?
I wanted either Public Relations or to be a teacher. With Public Relations, I did not find any open door, and as a teacher there were few possibilities. Sears had a very complete program and offered good salaries. After my son was born, I worked with difficulty, and by the time my daughter was born, I resolved to get a license to take care of children at home. The county offered a very good program for child care, so I worked from home, taking care of children, for seven years, and when both my kids started to go to elementary school I worked as a teaching assistant in Dana Point's elementary school, R. H. Dana.
Silvia Pule had two Bachelor's degrees, one in Social Studies and the other one in Spanish Literature, but they were too general, and that is why she couldn't be a teacher. She needed to more years in the university; after discussing it with his husband she resolved to keep studying; she obtained a master's degree and her accreditation to teach by attending the university at night. She applied for a position in the Capistrano District, and Michael Hoy
-R. H. Dana's principal- hired her.
"At that time I was teaching the Transnational Bilingual Program, which started in Spanish and would switch to English in the second or third grade. Mr. Hoy assigned a class to me, half of the students were in kindergarten, and the other half were first graders. I had to use common sense, since there were no teachers' guides at the time. So I taught English to the kids, measured their performance year by year, and kept certain records of their achievements; I got myself more involved in the District. Principal Hoy encouraged me to prepare for an administrative position, and so I did. I got my administrative credential after one year and a half. I was assigned in Las Palmas as Vice-Principal. The Principal was Mr. Kramer. I was promoted to Principal and stayed there until they transferred my to San Juan Elementary to implement the  Two-Way Language Immersion Program, in order to capture a more diverse population, and to provide more opportunities to the students already enrolled by incorporating other ethnicities to enrich the learning environment. The objective was to make the school more representative of the world we have today, more real, and without segregating people from opportunities for the future.
What percentage of Hispanics and people from other ethnicities are to be found today at the school?
This year we have -it varies from year to year, 74% of Hispanics, 20% from an Anglo-Saxon origin, and the rest of Asians and African Americans.
Are there Asians in the south of the County?
Yes, most of them from China. They choose to take their kids to this school because of the program we offer; they come from Aliso Niguel, Coto de Caza, and other cities within the School District.
How much Spanish and how much English is taught in the school?
In Kindergarten and first grade, Spanish is taught 80% of the time, and 20% of English. Kids learn first how to read in Spanish, and then they learn the sounds in English. During second grade we do not formally teach to read in English, but they take the state Exam in English and they do very well, because they are transferring everything they learned to English. Further on, during fourth or fifth grade, it is expected for them to be able to do everything in both languages, half of the day in English, and the other half in Spanish.
What are the results of the program so far?
Excellent! Families of different ethnicities have learnt to accept their differences; kids play and grow together. And academically, school improved considerably because it generated a different dynamics and model, in both languages that they learn and apply not only in the classrooms, but also during recesses and through the many activities we have. It was hard at the beginning. Cultural differences were too clear, but we created activities for them to know each other, to share and celebrate their traditional holidays. Nowadays, many parents who speak Spanish also contribute; that makes them feel valuable and consider both languages of equal importance.
Are there other schools in the district that have adopted this program?
There are three. This program started in Las Palmas, 18 years ago, under Principal Kramer's direction; in San Juan it's been implemented for 7 years, and last year they started another one in Viejo School, in Mission Viejo, under Mr. Kramer's direction. Several Schools in Santa Ana and around the county have it too, as well as Long Beach and other parts of the nation. Another thing that has helped us is to establish mandatory uniform for all students. Uniform unifies the students. It is very affordable, and if there are families that can't afford it, we give it to them at no cost.
Among the many programs offered by the school, there is the Center for Student Success, a friendly place for students, families, school staff, and visitors to get together and get information from the bilingual staff, who will keep them informed and will give access to the many services developed for them. The GREP, an agency that works in collaboration with other organizations to prevent kids from getting involved in gangs, was created; additionally, the principal, along with the rest of the teachers, are mentors of at least one student. There is also Advanced Readers, a computer program that encourages kids to read and The Mind Institute Research, a computer game that teaches Math, vocabulary and concepts. Silvia asserts that in school they teach three languages: English, Spanish, and technology. The school earned a fellowship for them to use it for three years. There is also the career fair, where professionals go and explain about their jobs and where they went to school, to inspire students to pursue higher education. Additionally, the school has a board where they post the names of the students that have demonstrated good attitude and character; every month they emphasize a different virtue.
This school is funded by the federal government; with these funds they pay the teachers for one more hour of class a week, in order for the students to practice more if they need to; it also offers a five weeks summer program. One of the requirements to receive the fund from the Federal government is that every parent volunteers for at least 10 hours each year; they can do it at home, in the classrooms, or in festivals. "We need Hispanic parents to help in the classroom because they have the language, and they could help the kids to read in Spanish. During the first grades most of the school day is in Spanish, because once they start to study in English they do not devote time to Spanish anymore. Teachers are our priority, so we invest these funds on them first. In addition, since we've been so successful with the Two-Way language program, we hire new bilingual teachers every year," she concluded.
Silvia Pule promotes and practices this statement: "I am convinced that life is 10% what happens to me, and 90% of how I react to it. And so it is with you… We are in charge of our attitudes." Silvia shares this excerpt from Charles Swindoll's book, Attitudes, with her kids and with her teachers at school.
Tell me about your kids
My children are my life. I dedicated my entire life to them. My eldest son is Michael, and my daughter, Michelle. My daughter graduated from UCI also. My son married before graduating and now he is an executive at an electronics company. He gave me a beautiful grandson, Anthony, who's three. His wife had an eight year-old daughter, Melody. Michelle wanted to be a veterinarian; she has worked with veterinarians, but she found the school workload to be too heavy. She still works in that field and is starting her own hypoallergenic animal food business. I am very proud of both of them.
What are your hobbies?
I love to play piano, to sketch, to paint, to sew, to take care of animals, but mostly, I love to learn. To spend time with my kids, my family, my grandkids, that's my biggest pleasure. I love to travel, but I haven´t had the time since I was taking care of my mother. My goal is to go to Rome; I studied Art History and always wanted to go to Italy.
How was your experience with the Fullbright Teacher Exchange Program in Argentina?
The fellowship consisted of three weeks in an assigned country, visiting schools and teaching while someone form the that country would to do the same here. Alejandra Gersey, Principal's Assistant at a private school in Cordoba, came here first, and stayed at my house. She spent three weeks in schools from our district, and she taught Spanish. Later on, I traveled to Córdoba, stayed with Alejandra and taught English. The program only required us to watch classes, but we also wanted to understand more deeply the school systems of both countries. I tried to use some programs and strategies that work here, but did not work out there. I noticed a disconnection between parents, school, and their kids' education. Moreover, classes are only half day. On the other hand, I identified similar strategies that are efficient in both countries. I realized that we work in similar frequencies, that we are united by the profession; I improved my Spanish, but I still need more.
What is your message to the mothers of the kids that go to your school?
That education is the most important thing for their children's future. That they should continue learning English, in addition to a profession or a career, but they should never stop learning. They should give their kids the best future by encouraging them and getting involved in their education, giving the importance education has in their lives. The best thing mothers could give their kids is a good education. If they take them out of school to travel on vacations or because they need them at home, I advise them not to do it. Get involved in the school activities; we have wonderful families that help in the ways they can, and we give them many ideas. There are parents that we call "guides," they wear vests and escort the kids of the neighborhood to school; we have families that are here almost every day stapling, cutting, and doing a million things; without them and what they do, neither the school nor the kids' learning process would be as successful.
What is your message to the community about the school's 160-anniversary celebration?
San Juan School has a vast and rich history, educating since 1850. Many students have passed through its classrooms. I invite alumni, teachers and anyone who has participated with the school in one way or another, to join us on the celebration of 160 exciting, fruitful years.
Filed Under: Outstanding Person • The latest
About the Author:
Comments (0)