admin | Nov 29, 2010 | Comments 0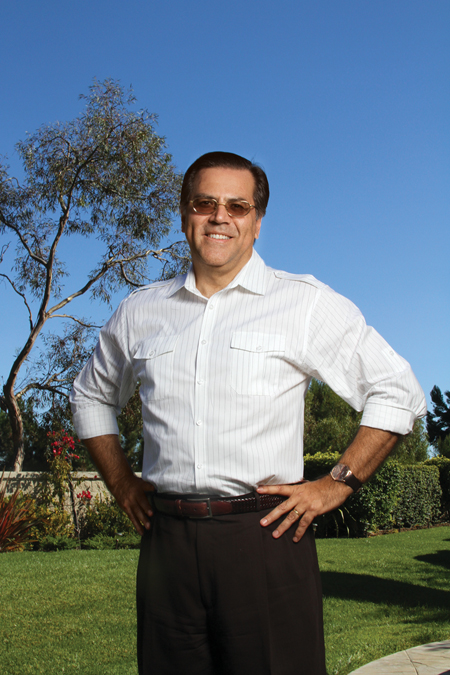 Alex Fortunati-?CEO, Support Services of America, Inc.
Alex Fortunati is not afraid of work, rather revitalizes from any challenge, and overcomes it successfully.
With an admirable tenacity and strength, and from a very young age, Alex Fortunati has worked tirelessly on multiple occupations. Independent, disciplined, Alex is among the major experts in building maintenance services in the U. S. He is the founder of Support Services of America, Inc. ?SSA, Hispanic company with the largest network nationwide, with more than 2500 locations under contract, and one of the largest qualified personnel infrastructures, always ready to assist clients from coast to coast. SSA is among the top of its kind, and stands as one of the fastest-growing in the U.S. and Canada.
Alex Fortunati has a MBA from Pepperdine University and a certification in Human Resources Management from UCLA. He also serves on Pepperdine?s Presidential Advisory Council and on several boards around the country. Alex Fortunati has received innumerable awards, including the prestigious National Leadership Award; One of America?s 500 Fastest Growing Businesses, INC. MAGAZINE, 2003; Top 100 ? One of the Fastest Growing Companies in the USA, HISPANIC BUSINESS MAGAZINE 2006, 2008; Top 100 Entrepreneurs, HISPANIC ENTERPRISE, 2006; Fastest Growing Companies, LA BUSINESS JOURNAL, 2006, 2007, 2008, among many others.
His father was one of five siblings of a middle class family in Italy. His grandfather was a businessman, who owned bars and trattorias back in his home country. Because of a rebellion against him, at 19, Alex?s father leaves his family, rides on a boat and migrates to Argentina. This was considered a capital sin for his family in Italy, who never forgave him.
?Thanks to that rebellion we all exist,? says Alex to his children. His father settles in Buenos Aires and he meets Alex?s mother; they start dating; the couple marries and bear a daughter, who was born in Buenos Aires, a second girl is born in Rome and lastly, Alex, in Argentina. His father gets tired of the country and moves to Arlington, in the Washington D. C. area. Alex?s youngest sister, Ana, is born there.
?We live there for 6 years. My father had a small house painting company; his clients were all colonels and commanders; because of its proximity with the Pentagon, he always had work. From one day to another he decided to return to Italy. His family treated us with indifference at the beginning, but after a while there was more cordiality. Now, they receive us as if we were gods,? says Alex.
How many years did you stay in Italy?
I was eight and 14 when we left. My education was practically Italian. There, I started to connect with the girls; I felt very Italian. Every time mom said that I was Argentinian, I would reply that I was Italian. One day my mother?s wish imposed; she wanted to go back to her homeland, so we took a ship and returned to Argentina. My dad followed us a year later.
His mom wanted her children to be raised in Argentina. Alex, after his experiences in Italy and the U. S., was very disappointed of Buenos Aires. The heavenly land that his mother?s yearning for her country depicted, while they were still in Italy, made Alex wonder: Is this what my mother said that was so good? Having lived in different places has its disadvantages, but also advantages. In each place he had to learn the language, assimilation was hard, acceptance. In Italy, kids make jokes, but in Argentina, they make way more. He did not know it was something cultural, Alex felt constantly attacked, and he would always end up fighting. But the advantages would be seen later on. At 17, Alex spoke three languages, knew three cultures and had so much self-confidence that, not so long after arriving in Argentina, he went to a court and became emancipated. He did not want his parents to get involved in any of the business affairs he was planning to carry out.
Why did that occurred to you?
I had heard that emancipation would allow me to do as I pleased, without my parents? consent or signature. I wanted to be able to move lively and independently. And I did it. I created my first company, Royal Cargo, an airfreight agency, working as a customs broker; I did all the paperwork for imports and exports that I?d learned at a German company where I worked and from which I had to resign.
One day, two of the German bosses from the company invited Alex out; he thought they would have drinks, but instead they took Alex to a warehouse, where some of the freights were ready to be dispatched. The German bosses opened some of them, and started to give out the merchandise; it was ties, from a famous designer. They give him and another guy one and kept many for themselves. Days later, someone told the manager, Rudy Sagel, about the incident, who fires them all. Mr. Sagel called Alex and said: ?Alex, I had high expectations of you; you were so well recommended, how could you do such a thing?? He apologized and confessed to him that he had no idea about how to deal with such an unexpected situation. Mr Sagel did not fire Alex, but rather he gave him the chance to resign.
Alex turns to Carlos Castro, a Customs Officer and a client of the German agency; he tells him his whole story and asks Mr. Castro to use his desk and telephone to work from there doing customs brokerage, in exchange for his services at no cost. Alex started knocking on doors at 17, offering these services; he did not make a lot of money, but earned more than a salary. Two years later, Alex, 19, along with Tito Illian, 30, as his partner, created a temporary personnel agency, Universal Servicios Empresarios. They manage to make considerable money. They had more than 100 people working temporarily. They eventually sell Universal, and set up an import-export agency, ExpoAltair S.A., where Alex kept learning and traveling around the world, selling large frozen fish lots from Mar del Plata, Argentina.
How did you manage those clients from a distance in those years?
First, I would send a letter of representation, and a copy of the associations of which I was member; then I would notify the dates I?d be in their country and ask for an appointment, just to visit them. I learnt that the Asian countries are very kind; Korea, Taiwan and China treated me very well; they sent me a chauffer to my hotel, and assigned someone to look after me all day. The Japanese were the exception; no one went to see me. But I got to see the city. Even an Ambassador to Argentina received me in one of those remote countries. I?d met him when he was CEO of Ford in Argentina. I always keep contact with people who opened up their doors to me. This practice has always worked out for me, both here and everywhere.
At 21, Alex marries Susana, after four years dating. They enjoy a wonderful month in the U. S.; they go to New York, Arlington?he wanted her to see the place where he grew up?, and finally to Miami, for one week. And that is how they started their harmonious adventure together.
How do you meet Susana?
Playing tennis at the Police Department?s sports facilities in the city of San Miguel, in Buenos Aires. A friend of mine invited me to the club, and I met her there. We became very good friends, we were 16, 17 years old; we started growing together, and after four years we knew who we were; we had grown together, so we decided to get married. Our relationship is very stable, and we are very happy. God has blessed us. Susana is the one that encourages me to grow; she gives me peace, watching over for the family and keeping my back covered. This is essential for business: if that part of your life doesn?t work, the business won?t work either. Then Veronica arrived, and our life got overwhelmed with joy. We were in love with her; well, with all our children.
?My father reappears in my life, and wants to work with me, so we create Tecno Pintura SA, which got to be the last company I owned in Argentina. With my father?s experience in house and building painting, and my knowledge in contracts and sales to engineers, architects, and construction companies, Tecno Pintura succeeded; clients liked the father-son idea. We had plenty of work and a lot of people working with us. But with the Falklands War, back in 83, everything paralyzed. The government would not pay to contractors, and they wouldn?t pay us. We accepted apartments in exchange for our work; at some point we had five, but had to sell them to pay our debts. I fled, disenchanted, from Argentina, and got back to the U. S.,? says Alex.
Does Susana accept everything you decide to do?
I had to break the promise I made to her father that I would never take her out of the country. We came to the U.S. with nothing in our pockets. I chose Los Angeles since I thought Susana would adapt more easily among Hispanics, despite the offer I had in New York to work with the Chinese. I came alone for the first months; it was really hard, because I had no money. I arrived with $110 dollars and took a bedroom at the San Francis Hotel in Hollywood, for $55 dollars a week. It was a real dump, crammed with drug addicts.
Alex found a job after 10 days, selling furniture. ?I was selling some furniture, not too much, but some. The owners also manufactured a kind of chair that was also a folding bed. On that time there was this franchise, Zodies, which was kind of a Walmart, and I managed to get them interested to by 30,000 chairs, and maybe more. I told the owner, overwhelmed with excitement, ?but we cant,? he replied; I asked what he meant by that. ?This sale is worth millions! Make double shifts, triple shifts,? I begged. Disappointed with that job, I quit and find another one in Wilshire and La Brea, from 8 to 5, offering temporary personnel?, says Alex.
Someone told him that an Argentinian girl in Santa Monica, Perla, was working for a cleaning company. He got the job right away. During that period of his life, Alex wore suit and tie from 8 to 5, offering secretaries for temporary jobs, while from 6 pm to 2:30 am, in Santa Monica, cleaned and vacuumed floors. Four months later, the Vice President of the corporation visits Alex?s workplace and asked him, disconcerted, what he was doing there. He asks Alex to meet in his office the next day, and offers him the position of assistant to the Chief Operating Officer. He did not last for too long, since he learnt there is many ways for people to play tricks on someone. ?A boss can help you, but if one doesn?t know how to react, how to understand, how to navigate, everyone else would try to make you fall, and I fell,? Alex remarks. He learnt that he had to be careful, and that there?s a time to talk and a time to shut up; a time when is better not to demonstrate everything you know because it might be intimidating. He worked for a few months at the Hyatt Westlake Village, as the night-shift hospitality manager; later on he is offered the same position at the Beverly Hills Hotel, and he accepts. He asks for some privileges, such as not using the regular uniform, a couple of hours of sleep during his shift, and some others. His reputation as an excellent worker allowed him to do that.
?There was a moment when I even had three jobs. Big sacrifices for my family and me. I did it for almost two years, but I was exhausted. Finally I get my first contract, from Robert Trautman, a better paid job for cleaning Santa Ana?s general hospital?, says Alex. Alex created his first company right away, in order to fulfill the contract requirements.
Alex Fortunati negotiates his conditions for the job, and no one dares to contradict him. Alex is seen in the hospital dressed like a doctor, impeccable, wearing shirt, tie, and doctor?s white coat; he teaches his team how to clean, use the machines, and work with professionalism, while the other maintenance personnel, in different areas of the hospital wear the customary blue or gray uniform.
Alex keeps learning, reading, putting a lot of effort, and so he becomes a specialist in the hospital industry. He studies the techniques to clean surgery rooms, the terminology, symbols, contingencies, emergencies; he knew very well what inspectors were looking for. He speaks with authority on the subject because he knows very well every detail on the matter. He got to be in charge of 6 hospitals, with more than 150 people working with him; he was operations manager, and had to be at every hospital he was working with. After some time, he attempted to make his company public, but he decided to close it because of disagreements with his partners.
He accepts to work for a French company, Sodexo; he is sent to Boston for more training, and he gets in charge for contracts outside of the US; Alex travels to many countries in representation of the company during the three years he worked there, and acquires more experience. Tired of corporate politics he decides to work as an independent, managing the cleaning services of 14 convalescent hospitals; he was not making a fortune, but well enough to support his family.
How many kids do you have at that moment?
All my children were already born: Veronica, Stephanie, Christian, and Fabio.
Susana has always been the pillar of the family, often enjoying his husband?s presence, managing the house and guiding their four kids; the same tenacity that Alex has for business, she applied it to the household. Alex did everything humanly possible to be present for his family in times of need. ?I always had Susana?s unconditional support; this had allowed me to move with total independence. I don?t look for work because I am interested in money, for money comes when you do things right; rather, I want to live better, offer my family a better future,? he says.
On his insatiable quest for better opportunities, he works at the Vencor Hospital for a while and learns about a Director of properties in the city of Whittier, who was very unhappy with the services he was getting in one of his buildings. Alex promises him a better service and gets the job. That?s how Support Services of America, Inc., SSA made the debut of its steadily ascending career.
Even Susana had to work at the beginning; Alex was getting more and more contracts: hoisting the truth, he promised solutions to the potential problems; people saw him work, respected him and trusted his services. He had Ross Stores for ten years, and was in charge of the cleaning of 650 stores nationwide, and added repairs in addition the services he already offered. When Ross?s Board of Directors changed, they hired someone else, but by then Alex had recognition nationwide, and he was offered many contracts as a result. He expanded his personnel, adding district supervisors, managers and many other positions. He began to receive offers to work for the government, the Air force, on military bases, and at the Department of Energy. He managed to diversify and today, Alex has, among his clients, Macy?s, Office Depot, Best Buy, Government offices, 1200 postal offices nationwide and many other buildings from coast to coast.
What is your highest goal?
We are already working on it. We have created a platform for other companies, Creation Capital Partners, with two eminent professionals, Dr. Barry Soltani, well-known economist, and Hector Martinez Reding, expert in company acquisitions and Fusions. We had invested in two more companies, and plan to invest in other prospective companies, adding their services to the ones we already offer across the nation. One of them will be managing security camera systems; another one is software that would manage the cooling and heating systems in the building in order to help save energy. We?re currently identifying prospects that could opt to introduce solar energy.
Alex is always open for any negotiation. And if Support Services of America, Inc. turns out to be attractive for a transnational corporation, he would consider it. Or maybe he would make it public. Alex looks for challenges, and whenever everybody says ?No!? he puts more effort, and with his wide open smile and all of his determination, he always says ?Yes!?
Alex Fortunati?s biggest and most valuable achievement is having created such a wonderful family, his wife, who he adores, and his four children, raised under the impeccable example of their parents, with an admirable work ethics, a tenacity out of this world, and unconditional love and respect for their family. Despites the ups and downs Alex has had to face through his life, he always knew how to protect and provide everything his family needed. ?Susana and I feel blessed with the children we have, the two grandchildren our daughter Veronica has brought to our lives, and we feel proud to see the exemplary mother she has become. We enjoy the experience and intense satisfactions life has given to us, and we treasure every moment we share with our grandchildren, friends and family,? says Alex proudly.
The Fortunati family is well-known for its generosity; they find very rewarding to help other human beings, and to have the opportunity to devote time and resources to humanitarian and noble causes. Alex thinks that the more privileged people should show their leadership, their compassion and wisdom to those less fortunate. The Fortunati couple also participates in innumerable programs and activities to mitigate resource inequalities among human beings.
What is your advice for the small entrepreneur; for the person that wants to start his (or her) own business; for the people that feel trapped in this economy?
The small business owner, whether he offers products or services, has to become an expert in what his offers, and if he has the ability to sell, fantastic! If not, has to find someone that has it. He has to know that nothing comes easy, solutions don?t come to us, but rather we have to go out and find them. Some small businessmen, who associate to agencies or chambers, think that only because of that, they will start to get contracts and that the business will carry out successfully; but that never happens! We, a relatively big corporation, had to get accreditations in order to work for the government. It took us a one-year investment for us to get the first contract with them; we had to learn how to do it. There are opportunities for everyone, and having your own business implies working hard, long hours. Some businesses fall during the first years because they are not well prepared. It is important to ascertain, to learn, and to talk to people that had succeeded.
Filed Under: Outstanding Person • The latest
About the Author:
Comments (0)