admin | Apr 11, 2011 | Comments 0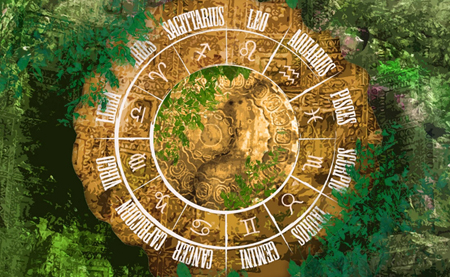 ARIES (March 21 – April 19)
You will have plenty of energy – perhaps even too much – with a collection of planets moving through Aries during the spring season. Energetic Mars will be in Aries until May 11. Mercury, planet of communications, and Venus, planet of love, will be in Aries until May 15. Lucky Jupiter will be in Aries until June 4. And Uranus, planet of change, which moved into Aries on March 11, 2011, for the first time since 1935, will remain in the Sign of the Ram until 2019! Under the influence of so much planetary energy in the fiery and initiatory sign of Aries, expect the new to take precedence over the old. Even though you may feel pressured to do many things quickly – and all at once – you are moving to a new and better stage of your life! Aries rules the head. So, be careful of your head under the heady influence of so many planets in Aries!
TAURUS (April 20 – May 20)
When the Sun, communicative Mercury, loving Venus, and energetic Mars move into Taurus in mid-May, joined by lucky Jupiter in Taurus on June 4, you will suddenly feel as if the spotlight is upon you. You will be the center of many people's attention, and in this position will be responsible for mediating the needs and viewpoints of many others. Stay fixed in your own stable center, but simultaneously practice flexibility so that you may project the congenial quality so natural to your Venus-ruled personality. The concentration of so much planetary energy in the Sign of the Bull may make some people become intractable during periods of disagreement. But this powerful energy also will make people commit to what they truly believe in. Consider your values – and act accordingly.
GEMINI (May 21 – June 21)
The communications planet Mercury, your planetary ruler, will move in a beneficial direction for your sign beginning April 23. Make significant decisions and initiate important projects after this date. A solar eclipse in Gemini on June 1 will enable you to understand old information in a new, more enlightened way. You may find yourself focusing on a subject you were previously unaware of. A lunar eclipse on June 15 will heighten your sympathies for someone you will be able to help. This eclipse will heighten people's awareness of the interconnectedness of all human beings on the planet.
CANCER (June 22 – July 22)
A line-up of the Sun, communicative Mercury, loving Venus, and energetic Mars in the compatible earth sign of Taurus in mid-May will give you the sense of security you have been looking for. Seek the company of like-minded friends to experience the sense of a caring community that you crave. The entrance of lucky Jupiter into Taurus on June 4 will strengthen your relationships with the people you are close to. Think about the direction you would like to go in the coming months. The energy of the group of people around you is strong enough to carry you in the direction you would like to go. Be clear about where that is.
LEO (July 23 – August 22)
A collection of planets in the fixed sign of Taurus in May and June may cause you to encounter people who stubbornly resist your normally exuberant energy. The Sign of the Lion, ruled by the Sun, also is a fixed sign that does not always respond favorably to resistance. Consider any challenges that come your way as growth opportunities. Step back, consider the situation from another person's point of view, and imagine how you will feel about the situation in a year from now. Many things that seem important in the present moment will seem less significant as time passes. Be patient and allow yourself the gift of time in making important decisions. While it may be tempting to react quickly during a heated moment, you will make your most rational decisions when you give yourself some time, gain perspective, and allow any inflamed feelings to cool down. This is a time to practice patience, equanimity, and even-mindedness.
VIRGO (August 23 – September 22)
The passage of Mercury, Venus, Mars through the compatible earth sign of Taurus in May and June, along with Pluto in the compatible earth sign of Capricorn, will help you to feel calm, stable, and centered. You are a perceptive person with an active nervous system. As an earth sign, the passage of so many celestial bodies through compatible earth signs will give you a taste of the relaxation and serenity you long to experience. Make sure when the opportunity to experience a calm moment visits you that you don't revert to established habit patterns and re-create stressful conditions. All humans are wedded to routines and patterns and have the ability to create circumstances that repeat familiarity even when they know the patterns are not good for them. Try new things and take a break from the past – and breathe deeply while you relax!
LIBRA (September 23 – October 23)
When four planets line up in the Venus-ruled sign of Taurus in mid-May, you will feel drawn to artistic and beautiful undertakings. The Sun, communicative Mercury, loving Venus, and energetic Mars in Taurus will stir your senses and bring out the artist in you. You may use this energy to read or write poetry, decorate your home, spruce up your wardrobe, change your look, cook a sense-pleasing meal, or to bring greater peace and harmony to an important relationship. When lucky Jupiter moves into Taurus on June 4, your aesthetic senses will be heightened to a greater extent. Use this sensual energy to create something of lasting value in your life.
SCORPIO (October 24 – November 21)
The passage of four planets into your opposing sign of Taurus in mid-May will focus your attention on partnerships. The best question to ask yourself is how to simplify the process of relating to others. How can you peacefully and harmoniously co-exist with the people you care about? Your relationships may have reached a point where a history of complexity may make it difficult if not impossible to relate in an objective way. Try to wipe the slate clean and start anew. Practice patience and forgiveness. Imagine you are the person you are relating to. What would you like to receive? Step back from complicated interpersonal dynamics that drain your energy and focus on relating in ways that build your confidence and that of your partner. The entrance of lucky Jupiter into Taurus from June 4, 2011, to June 11, 2012, will augment the process of streamlining dramatic relationship dynamics.
SAGITTARIUS (November 22 – December 21)
The conjunction of loving Venus and lucky Jupiter on May 11 will spark your fondness for romance. You may give flowers to a loved one, write a beautiful poem, or simply share the loving feelings in your heart. When Jupiter moves into Taurus on June 4, you will begin to shift your focus from romance and creativity to material security and acquisitions. Purchases and investments that you make from June 4, 2011, to June 11, 2012, will be with you far into the future. You simultaneously will let go of many things to make way for a new style of life.
CAPRICORN (December 22 – January 19)
The line-up of the Sun, communicative Mercury, loving Venus, and energetic Mars in the compatible earth sign of Taurus in mid-May will make you feel as if you and others are harmoniously aligned and mutually supportive. When lucky Jupiter enters Taurus on June 4, you will feel a greater sense of comfort within your own skin. Sometimes you feel as if you are on the outside looking in. Little do you realize that many people feel the same way, and they perceive you as a central person in their lives upon whom they can depend and are willing to follow. Flex your leadership muscles and see how many people respect your vision and foresight as a leader of others. Exercise foresight and caution to earn the greatest respect.
AQUARIUS (January 20 – February 18)
Loving Venus conjoins your planetary ruler, Uranus, on Earth Day, April 22nd, making this a fortunate day for you to do something to make your earthly environment more beautiful and hospitable. Plant some flowers or plant a vegetable garden. Choose an environmentally friendly laundry detergent or even pick up some trash you might have otherwise overlooked. Yours is the sign of brotherly love. You know that if each person makes a small contribution, the entire planet will feel the positive effects. If you aren't inclined toward earthly projects, express your caring for humanity through spontaneous acts of kindness and compassion. You have a big heart. The time is right to express the positive feelings in your heart. The channel is blessed by what flows through it.
PISCES (February 19 – March 20)
The passage of your planetary ruler, Neptune, into spiritual Pisces will heighten your sense of understanding and of being understood. You are the person who intuitively understands everyone, but often wonder why others don't intuitively understand you. More people will gain access to their intuition under the coming planetary transits. You will set an example and be a teacher to many about how to marry intuition and compassion for others with practicality and common sense. Meditate upon the balance between these seemingly disparate concepts. We are entering an era of integration between the head and the heart, femininity and masculinity, and pragmatism and compassion. This is your time to shine!
Visit http://www.SanDiego.com/Horoscopes for new daily and monthly horoscopes!
Filed Under: Horoscope
About the Author:
Comments (0)