admin | Aug 20, 2012 | Comments 0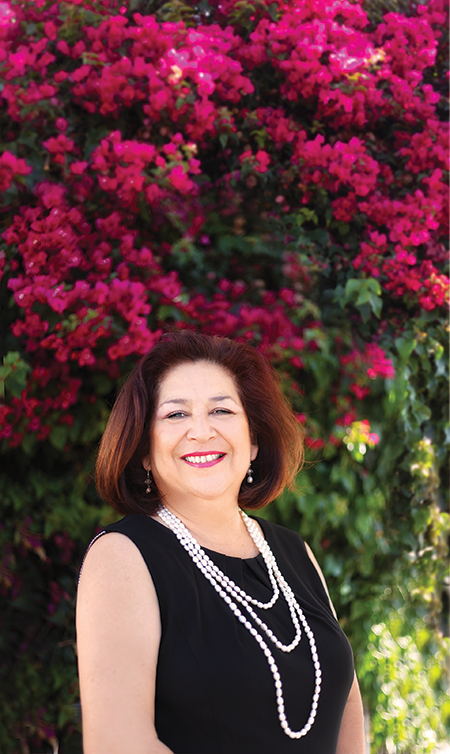 She is a great entrepreneur; works tirelessly to raise her people's educational level; a real leader of the city of Placentia and Southern California.
With determination, as a child, observed and decided the life she wanted to have. Against all odds, she managed to enter California State University – Fullerton, (CSUF), and she has become a beacon and example for her family and community.  Because of challenges she went through, she decided to help more Latinos graduate from CSUF, by creating a Golf Tournament to raise funds to provide scholarships to Latinos. Today, 25 years later, that tournament has raised almost $1 million helping thousands of Latinos to accomplish their dreams of a better life through education.
Her emblematic Tlaquepaque gives even more wings to her generosity and with the full support of her husband, she created the Tamal Festival.   This annual December event is now 20 years old.  Rosalina knows that in that festive and cordial environment, her community meets, enjoys its traditions, deepens friendships, and generates business.  Rosalina continues changing and benefitting her community for the well-being of everyone, with great ingenuity, determination and kindness.
"As a volunteer, former Councilmember and former Mayor, I have worked with Rosalina Davis for many years in the city of Placentia. The business community, in fact, all the community, should feel fortunate to have a person like her. Rosalina is one of the true leaders in Placentia as evidenced by her participation in groups such as the Chamber of Commerce and the Merchants Association, of which she was President.    She also directs our always very successful Tamal Festival event held in our city every December. .  The passion and dedication of Rosalina never ends.   Most importantly, Rosalina helps everyone around her to be better – an unmistakable sign of a true leader", Scott Nelson, Councilmember -City of Placentia.
Her grandparents, natives of Guanajuato, immigrated to the United States in 1922 in search of a better life. The family has nine children.  Cecilia Delgado is the oldest, and the family arrived in Orange County at the height of the orange cultivation. Every entrepreneur felt attracted by this new golden promise that "Money grew on orange trees".  This citrus gave its name to the County.  Plantations seemed as "green and golden waterfalls" falling through undulating hills, and they extended along the coastal plain in organized rows, separated by windbreak curtains of eucalyptus trees, impregnating the county with their fragrant legacy.
The family settled in Peralta Hills, and her grandfather got hired immediately.  "My grandfather was a very good worker and had a great knowledge of planting. He started many of the plantations of orange trees in Peralta Hills, and Anaheim Hills and created a highly efficient irrigation system.  The fields were not flat, and were very hilly.  The growers did not know how to irrigate the entire area well.  My grandfather knew the soil, and the sun; his employers liked and valued him a lot", says Rosalina Davis.  "He worked for 20 years, his children grew up, and then the country's Depression began.  We began to see long lines to receive a bowl of broth that the government provided; there was no work or money".   Because Mexico was flourishing, her grandfather resolved to return with the whole family to Guanajuato. Rosalina's mother, Cecilia Delgado, the oldest in the family, met a young man from the town, and shortly thereafter they married and had five children. Rosalina is the youngest, and when she was almost two years old, her father died in a field accident.    He was 32 years old.  Her devastated mother decided to return to California with her five children, where Rosalina grew up and was educated.
"Mom had to work in two or three places, everyone grew up very well, and since I was the youngest, I didn't feel the change so much; I got here when I was three, and my older sisters were already 14 and 15. They also had to work to help the family because we were six at home", says Rosalina.
Did your Mom have relatives here?
"Yes, all her brothers because they had returned to the US shortly after arriving in Guanajuato.  So she had their company, and their moral support.
When Mom retired she returned to Mexico to take care of my grandparents because we were already grownups.  My grandmother lived until the age of 89 and my grandfather to 103.  My mother was very happy tending to them, and despite their death she remains in Mexico. She has many friends, and a brother, she is happy, and looks 50 even though she will be 90 in November.  My mom is a fashionable person, she dresses up with gloves, is small and thin, she looks very curiosita", said Rosalina with great love.
Was it difficult to adapt to this culture?
"I always liked school, and when I got here I didn't speak English, but I do not remember having suffered upon entering the school.  I adapted quickly and easily. What I do remember is that my sisters and my mom went to work, and I, five years old, got up, got dressed, made myself breakfast and went to school."
Where were you living?
"In Orange Olive, between Orange and Anaheim Hills, I went to Olive Elementary School, my mother also studied in this school.  The house was very close, in two, three minutes I was there.  And when I returned, the house was empty, everybody was working."
Rosalina has three older sisters, followed by a brother, and she is the youngest.  All the siblings spoiled her and took great care of her when she was little. Rosalina continued her studies in Portola Junior HS, and then the family moved to Anaheim, where she enrolled in Katella HS from where she graduated.  Her mother graduated from eighth grade at Orange HS (now Chapman College).  When she returned from Mexico, she got a job at the Vans tennis shoe factory, and because of her hard work, she was soon promoted to supervisor.  "I saw Mom getting up at 5 in the morning every day, she was like a little ant, always working and very responsible, with a life and work ethic, impressive! She even sewed up very thick tennis fabrics using industrial machines, and came home exhausted. Seeing her like that, I told myself – I don't want this for me, I want a better life", recalls Rosalina.
After you graduated from HS, What did you do?
"I didn't know what to do. Back then, I was one of the few Latinas at that school, no one included me.  Although I didn't know what to do, I knew that I wanted a better life. I went to a school counselor and told him I wanted to go to College and he replied", What for?  Why do you want to go to College?"
When promoters from Cal State Fullerton visited Katella HS to inform students about the University, Rosalina told them that she wanted to study there, and a counselor asked: "What kind of grades do you have? A "2.0?" "I think it is better than that," she then asked, "2.8″  "No, better than that. I think I have 3.5 or something of the sort", Rosalina responded with shyness. The counselor was surprised. They helped her step-by-step, so she was able to enroll at Cal State University, Fullerton.
It must have been a difficult change for you?
"No, I loved school, that environment dazzled me, to grow and further develop the mind. I had the opportunity to share my life with all those young people and teachers, it fascinated me!"
Could you make friends there?
"Yes, great friendships were born there that I still have, 18% of the students were Latinos. I loved the summer I went to Barcelona to study with a group of friends. It was the best summer of my life, I learned so much! I realized there were many other things in the world, other horizons."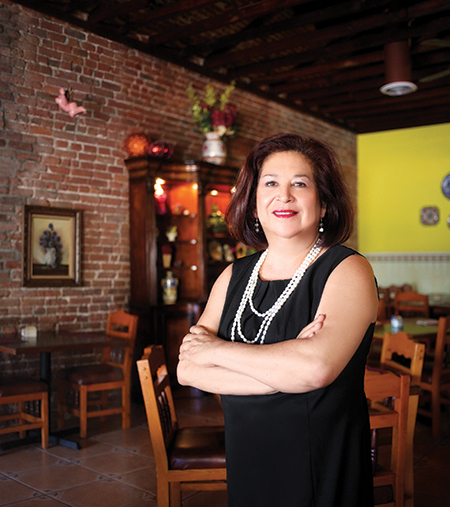 What career do you choose?
"I completed two years of general education first, and did very well. However, I continued not knowing which career to pursue. Many of my friends wanted to be teachers so I opted for that one. I went to school again to earn my teacher's credential, and I didn't like it. But I was told, "It doesn't matter!"  You can change careers two or three more times."
How much did it cost to study at the University?
"By then, they charged $80 per semester, and as I was living with Mom.  I could afford it. Books were more expensive, but the first year I got some scholarships and some financial help. That year I connected with people, because I've learned that everything is based on relationships, and I got a part-time job there."
Was that your first job?
"No. When I was 15 years old, a friend of my mother worked at a restaurant, I helped her and earned some money. Then in my third year of high school, a Bank of America representative came to school and said, "We will open accounts for all of you". I deposited in that account the money I had saved that Mom gave to me since I was little, and my earnings from the restaurant. When I graduated from high school, I bought myself a brand new car . . . cash! . . . With all the money I had saved. It was a Chevrolet Camaro, and I was very excited. That was my first car that I paid for at age 18."
Rosalina graduated from the university and was offered a job full-time. She would visit high schools to inform young people about Cal State Fullerton programs and the benefits of pursuing a higher education. She suggested to now Senator Lou Correa to attend the university.
"Rosalina Davis is a person of impeccable integrity, and she is dedicated and committed to ensure that students do not lose any opportunity to access higher education. Rosalina has all the traits of a wonderful human being who always care about others, always ready to help others, this being one of her highest values" – Silas Abrego, Vice President, Student Affairs – CSUF.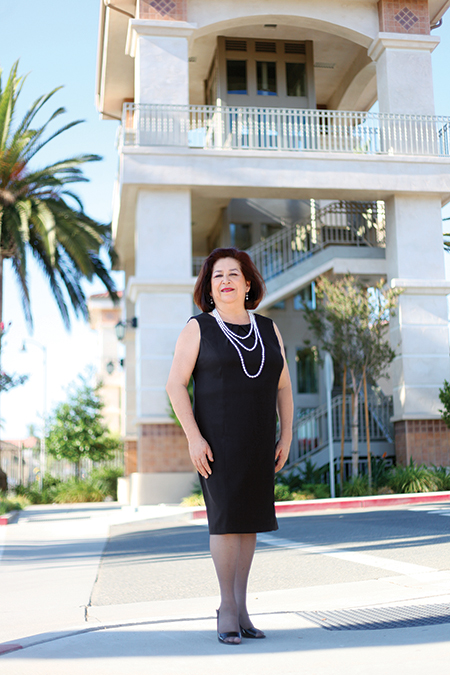 How long did you keep that job?
"Until 1989, when I had to take care of my children."
Children? When did you find a boyfriend?
"One Sunday, my friend and I decided to go to the Fullerton Library by bike, from Anaheim, to study for our final exams. We secured the bicycles with a padlock, and we were in the library studying for three or four hours. As we were leaving and as we were hungry, my friend said she thought there was a restaurant that had a bakery, in Placentia."
Tlaquepaque restaurant dates back to 1965, it was huge, it occupied all the estate that surrounds it today. The girls wore Levi's overalls, very fashionable then, and they entered a large room where a 20- or 21-year old young man was sitting in a chair listening to the beautiful music of a Mariachi ensemble, that intrigued them. He came right away to greet them. They asked what he was doing, and he responded that the band was giving an audition. Surprised, Rosalina asked if he worked there, and he said yes. From that very moment they began dating. She learned that his parents founded the restaurant.  His father had died the previous year, and he wanted to be an architect, but now he needed to help his mother and four sisters. Raul Davis and Rosalina dated for five years. She was 19 and had to finish her studies, while he tended to his many responsibilities.
"So I came to buy bread, and I took the owner!" She says amused. "But Raul teases me and says, 'Look at you, you came for a loaf of bread and you take the baker!'", concludes laughing Rosalina.
The young couple married and had two children, Rebecca and Raul, Jr.
Rosalina radiated pride when she graduated from the university.  She was the first in her family to do so.  Her two children and all her nephews have followed on her steps.  Rebecca graduated in Communications, and Raul in Business Administration and Finances.
With her marriage and the arrival of her children, Rosalina worked a few more years at the University, but then she decided to resign. She didn't want her children to come back to an empty house; she wanted to be an integral part in their upbringing.  Additionally, there was much work to do in the restaurant.
Tlaquepaque had a bakery, tortillería, and Mariachi shows on weekends, and the business flourished. Tlaquepaque became a landmark in the county.   People were coming from everywhere to taste delicious food, enjoy good music and unforgettable moments. There are many pictures of mariachis, famous musicians, Jane Fonda and many more well-known figures. Today, each train passing in front of Tlaquepaque, imbued their owners with nostalgia, who witnessed the time of apogee of the county gold fruit, and the packing houses that handled millions of kilos of fruit, filling the railway wagons to carry it across the nation.
Raul and Rosalina remember the prosperous years of the restaurant, and they know that without education there is no progress. She strives for the Latino community to improve their quality of life through education. She tells Raul that she wants to create a golf tournament in conjunction with the Fullerton College, to raise funds and give scholarships to low-income Latinos who wish to continue studying. Rosalina presented a proposal to Doctor Silas Abrego, a person with whom she had worked until she retired from the university. The golf tournament was started in 1987, and every year there has been another more beneficial one than the last one, and so on for 25 years! It has already raised almost a million dollars.
How was the first one?
"We had to have around 144 players but the most important thing was to get sponsorships from companies. The first year we were lucky that all the universities in the state of California had agreed that for every event benefiting the university and collecting $10,000, the university would match with another $10,000. Because of that, we made $40,000 the first year. Even the Irvine golf course was donated; Raul provided the lunch, and a dinner reception at night at no cost. He brought taqueros with all the equipment to the golf course, and mariachis; It was great. Everyone was fascinated because they had never seen a tournament like this. Last year we made $125,000; and all that money is going to the University for Scholarships.  We have already raised nearly a million dollars that we keep on a charitable fund"
Rosalina started to participate in the meetings of the city merchants, "La Placita Santa Fe Merchant Association", and she noted that they were only men. Little by little they got to known her, and they named her President last year. During her tenure, the number of members rose by 20% and retention was 95%.
"I know that if we help the community everybody benefits, as love for the people grows, new friendships are born, and development happens. My husband started with Las Posadas in Placentia.  We wanted to give something to the people, so we put a table outside and gave chocolate and sweet bread, and everyone was happy! But, many did not know the meaning of Las Posadas. That's why the Tamal Festival was created jointly with Las Posadas. We've been doing it for 20 years, and I'm the President.  All restaurant owners have tamales stands, there is entertainment, and I bring the Mariachi Las Divas who have already won three Grammy Awards. Around 20,000 people attend; this event is unique in Orange County. Santa Claus comes and delivers more than 1,500 toys to children. I ask for money donations from businesses, companies, and then the committee buys the toys. This year the event will be on Wednesday, December 5th, from 4 to 9 pm.  Admission is free, you are only charged for what you consume . . . . Visit Tlaquepaque Restaurant in Placentia."
What is your message to those who wish to study at Cal State Fullerton?
"Work with your school and the college of your choice, know which classes the university accepts, and take them.  Moreover, talk to college staff visiting the schools to have direct contact with them.  All the goals in life are achievable, you only need to have dedication because there is support, there are resources; although right now the cuts have affected the universities, still you can"
And, as the world changes constantly, it was decided to completely renovate the restaurant, which reopened two years ago. The renovation brought not only changes in the structure of the business but in dishes and flavors. Even Margarita, the restaurant's original cook who had already retired returned gladly to help some mornings at Raul's request. She is over 80 years old, and she has the touch and an unsurpassed taste in preparing sauces and chiles rellenos as no one else can make them. "We sell her chiles rellenos as you can't imagine it!"  says Rosalina.  Raul and Rosalina traveled to Oaxaca and Yucatan to learn different moles, sauces, because in Mexico people are always trying new things, and each region has its authentic food and flavors that they want everyone to know and enjoy at their restaurant.
"In Guerrero, every Thursday they make green pozole that is prepared with pumpkin seed-it gives it an excellent taste, and decorate it beautifully with thousands of other ingredients giving it a unique flavor. We started to serve green pozole, we love it, but people do not know it, and it didn't have greater success so we took it out of the menu.  But, the traditional enchiladas made as in Mexico, they had great acceptance, and people are passionate about them", says Rosalina very proudly.  Tlaquepaque prepares authentic food, no canned food is used, everything is made from scratch; they peel peppers, roast them, everything is fresh. 'We go to Mexico very often to get inspired, people there are very crafty and have a very select palate that we want to impose here," she says satisfied.
What is your experience of working with your own family?
"It is a privilege to be able to work with the family, you have all the confidence in the world, your business has the protection of family, support, everyone understands and is interested alike, it is the effort in common towards a single goal.  We get mad sometimes, but that's natural. It is a privilege to work with Raul, and he inspires us all because he has great vision and tremendous knowledge."
And your son, does he learn?
"He learns much from us, but he knows much more than us in other areas, in those he has studied. The combination of experiences that we all have and the chemistry is very positive.  My husband has the vision, my son does the management and all the books, watches the money, and I do public relations and marketing.  We have formed a very strong team.  We respect each other, I do not judge what they do neither do they judge what I do.   Yes we do share, but we give each other plenty of space and time, thus we get along very well."
Filed Under: Uncategorized
About the Author:
Comments (0)