admin | Aug 11, 2016 | Comments 0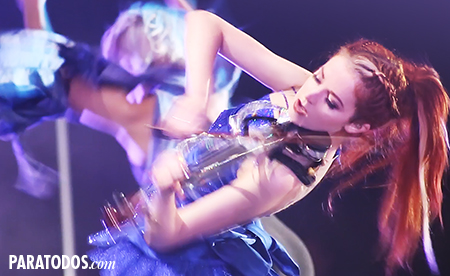 There is a fast growing phenomenon in the entertainment world, and her name is Lindsey Stirling. This Orange County native found her footing in the world of video games, composing beautiful renditions of epic scores on her electric violin, which she accompanies with an energetic and artful blend of ballet and modern dance. As her fan base grew, so too did her original pieces, which blend the elegance and sophistication of vibrant violin melodies within an upbeat, fast-paced, electronic musical background. These exciting compositions explode with waves of powerful emotion and evoke a strong narrative tone, all despite the general absence of lyrics!
Not only is Lindsey a masterful composer, but a strong and skillful dancer as well. One might think it impossible to feel any more in awe than when listening to her music on its own; yet, this amazing performer puts on a live show that transcends her music to an entirely different level. Her most recent performance at the OC Fair in Costa Mesa, CA was proof that the addition of live musicians, gracefully powerful backup dancers, stunning light displays, and fantastical projected visual imagery crystalize her show into something unlike you've ever seen before! Do not be fooled, Lindsey does not rely on these elements to merely accompany her playing, but she actively takes center stage in the dance as she continuously draws beautiful tunes from her instrument. Amazingly, her energy never fades as she leaps, pirouettes, and synchronizes her melodic dance from one outstanding song to the next. Taking only small breaks in which she addresses the audience with messages of hope, inspiration, courage, and love, Lindsey quickly returns to the performance which culminates in what seems to be finale after finale. If ever appropriate to compare a performer to a living fireworks display, Lindsey Stirling deserves the title.
Though her live tour is quickly approaching an end, her currently available, self-titled album "Lindsey Stirling" and follow-up album "Shatter Me" are available via most all major online music outlets as well as her website. You can also hear her most recent song, "Something Wild," during its feature premier in the upcoming Disney Film, Pete's Dragon.
Lindsey Stirling is the new and fresh face of an entirely novel musical experience: one that shatters the boundaries of conventional live entertainment. This is one performer that should not be missed!
By Jesse Bashem, Ph.D.
Filed Under: Entertainment • The latest
About the Author:
Comments (0)