admin | Jun 23, 2011 | Comments 0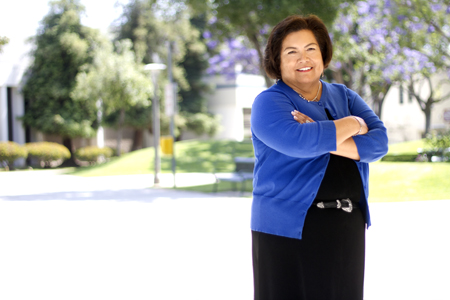 Her parents insisted on her the need of an education from the time she was a child, urge that keeps inside herself until destiny gave her a mentor who made sure she would continue her ascending trajectory by getting her masters as counselor in education from UCLA, then conquering her doctorate at USC. Her two greatest accomplishments were gained while as she gave birth to and raised her two sons, work and obligations never stopping her. With indestructible character, and an insatiable capacity for work, today Dr. Martinez has committed herself to transforming Santa Ana Community College into a privileged place for those who wish to follow in her footsteps, studying and benefitting from the program, Santa Ana ¡Adelante!, until they become leaders, capable of redesigning a brilliant future for the coming generations. Dr. Erlinda Martinez is the president of Santa Ana Community College since 2005 and she guides its development as a flagship community college in Southern California.
"When I met Dr. Martinez in the 1970s, she obviously had tremendous potential for upward mobility.  She is bright, thoughtful, has excellent judgment, is a hard worker, and relates well to all kinds of people.  I have enjoyed watching her progress through the master's degree and then the doctorate level of higher education.  Dr. Martinez rose from an entry-level classified position at a community college through a variety of administrative positions to her outstanding tenure as a college president. Rarely in one's career do you have the opportunity to be associated with such a worthy individual. It has been a privilege for me to know her, work with her, and observe her progress." -Dr. Henry P. Kirk – Former President of Centralia College, Washington State – Vice Chancellor, University of Livingstonia, Malawi, Africa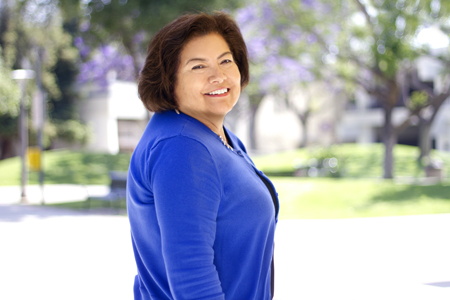 My parents were born in this country but their Hispanic heritage was noticeable in every step they took.
Her father, Raul Martinez, fought during World War II, he was a GI and when he returned from the war he continued his education and met the one who would become his wife, Natalia, in San Luis Obispo. They soon were married and the family was blessed with three children. Erlinda was the first, two years later Gloria was born, and Mike five years later.
When Erlinda became five and was supposed to start school, the family moved to Southern California. Erlinda grew up in the San Gabriel Valley; there she graduated from elementary, then from La Puente High School. Erlinda recalls with tenderness that when she was eight her father taught her to dance rumba and cha, cha, cha; he loved to dance. When she was young, he enjoyed the popular music and wanted to learn the latest dance moves. Her fondest memories are of when her father would dance with her.
"I feel lucky to have been born into two worlds. My maternal grandparents, David and Reynalda Baro had a farm/homestead on the central coast and my paternal grandparents lived in East LA. Both families believed in getting an education, they were sticklers about all of us studying. My mother is the eldest of ten children, they all graduated from high school, were very hard workers, some were teachers, nurses, prison guards, people who worked hard to get a good education and a good job; they are fountain of my inspiration. My father was the second child; he was a health inspector in LA County. All his siblings graduated also, many got degrees and two uncles have Ph.D.'s," says Martinez proudly.
During summer vacations the whole family visited the grandparents on their farm. "One summer my grandpa met us with three little goats for us to care for- one for each of us. We had them on a rope; we fed them, watered them, took them on walks, during the entire summer we cared for them with great dedication. A few years later, when we were adults, we considered that probably our grandparents had a delicious goat feast birria, after we left. My grandma died when I was six so I remember her vaguely but I see myself making cheese with her, gathering eggs, milking cows, looking for clams on the coast- we'd bring home buckets full! We made delicious clam chowder. She had an enormous vegetable garden; we harvested squash, corn for making tamales, and many other delicious dishes. I will never forget the marvelous family parties. I had an ideal childhood, full of unforgettable memories," the doctor recalls.
Did your family spend all of their vacations on the farm ?
We would all go for two weeks, but when we got older, our parents returned home and we would stay longer. Our grandpa and aunt would put us on the Greyhound bus and would say, "Don't get off until you see your parents," so we would travel to Los Angeles and they would wait for us at the station to bring us home.
Martinez has a very deep faith; her parents were Presbyterian and very religious. Her mother was the organ player at the church, and her father was instrumental in the opening of the Presbyterian Church in La Puente. Her parents were very worried when Martinez had to continue her studies away from home, but she was accepted at a Presbyterian college in Idaho. "I think the only reason they let me leave was because I was going to that school," says Martinez. But she was only there two years; she returned and married her high school boyfriend. Her parents insisted she continue her studies and she promised she would. The young couple continued studying at UC Riverside. She got a degree in sociology and her first job was providing community services to young people on probation. She did that for two years, it was gratifying but very stressful emotionally. She took another position with El Camino College in Torrance and shortly after she was pregnant with her first child.
"Henry Kirk, the college dean told me I must continue my studies. It never occurred to me to continue. Today I want to tell young people about this, because no one recommends continuing with post-graduate studies. In spite of being pregnant I returned to school; I had my son Robert and when he turned three I received my Masters in Education from UCLA," says Martinez.
While she cared for her young son and worked, the dean insisted she now work on her Ph.D. "What are you telling me? I don't need a doctorate!" she answered almost disturbed. "Oh yes, you do! Someday you'll be the college president and for that you'll need a Ph.D.," he concluded. Henry Kirk is the one who motivated her to study until she got her doctorate. Today they are very good friends. Dr. Martinez got her doctorate in education from USC- and another baby at the same time. Martinez recalls the sage words of her uncle Domingo about education, "Once you drink from the fountain, you always go back for more."
When she was accepted in the doctorate program at USC, she was able to invite relatives to the reception given in her honor. She invited her uncle and she also invited him when she gave a public presentation upon completion of her Ph.D. The doctor didn't want anyone else there for fear she would get nervous. Her uncle obtained his Ph.D. late in his career. And another uncle, Art, brother of her father who lives in Santa Ana, also has a doctorate. He's very funny, whenever he receives news from the college by mail he calls her and says, "I got your message."
After obtaining her doctorate, Dr. Martinez transferred to northern California with her family, to take the position of administration and student dean at Mission College in Santa Clara. Ten years later she returned to Cerritos College where she became vice-president. "It was time to come back home, my father was sick, and had even lost his sight. I visited him at least once a week during his last year. I enjoyed him a lot, his body was very deteriorated but his mind stayed brilliant until the moment he died. A few years after his death, my husband found someone younger and thinner and we were officially divorced in 2001," says Martinez.
This was a very dark period in her life; her children and family helped her cope. In 2004 a vacancy occurred at Santa Ana College, she applied and assumed the presidency in 2005.
"Santa Ana College is a marvelous place to work and I'm not at all sorry I made this decision. Perhaps it is because we all have the same goal in mind- we want our young people to have the opportunity to go to school. The great majority needs emotional, economical and social assistance to study and we are here for them. We want to see college degrees in every home in Santa Ana; we want them all to succeed, and we work hard to achieve this goal. I feel very proud about the program, Santa Ana ¡Adelante! Through which we work with Santa Ana Unified School District and CalState Fullerton. We were associated previously but now we have a site on the CSUF campus, assuring the continuity of the program. This is a wonderful solution because in this day and age economical resources are more and more necessary. We inform parents and young people regarding this program; we send letters to their homes. College students visit high school students explaining the program; besides 'padres promotores' speak to other parents wherever they meet. We also want to change the stereotype of young women who say they just want to get married and stay home," says Martinez.
"People who work and make minimum wage should also try to go to school because after a year or two, they'll make a lot more than that minimum wage. We have good vocational programs, many in the health department: physical therapy, nursing, pharmaceutical technician, etc. There are many CVS, Walgreens and other drugstores offering employment opportunities. When you earn more you don't have to work as many hours; you can continue your studies and that means even better opportunities and salary. You need to understand the investment of time when you study and what you get out of it. I worked very hard; I didn't have money so I asked for financial assistance, loans; I was a waitress; I sold shoes; I did whatever I had to in order to accomplish my objective of continuing my education," insists Martinez.
What was it like at the beginning at Santa Ana College?
Any college leader is concerned about identifying what needs to be added. One of these was to re-establish the college foundation. I employed a director, Christina Romero; I put together a board of directors and re-established the President's Circle. I also had to evaluate a very large construction program- since the site where it is located dates back to 1947. Many of the aspects of its infrastructure had to be considered. I called myself the "queen of the sewers" because the electrical system, water, technology and etc., was not documented so we continue to work until the campus is in order and well documented.
Are these all part of your responsibilities as president?
Not really, but it's urgent to solve them. Besides the college will celebrate its centennial in 2015 and not too many schools reach that point. We will have a campaign for the centennial and I hope those who studied at this school remember where their career started their higher education, and that they contribute whatever is possible- $5, $15 or $100 so we may have a successful campaign for its centennial. We will celebrate like Disneyland, for 18 months. We'll renovate the façade, the grounds on 17th Street, Bristol and Washington; our school will look spectacular. We will make it a showcase to be recognized and admired. We have great associations as with the county sheriff, the firemen, and a nursing program with Saint Joseph Hospital. And with the emergency responders in the county or the state of California- they are graduates of our college. Besides we have contributed a great deal to the economy and to this work force. I could go on talking about our vocational program that includes many areas where we contribute the labor force constantly.
As president of the college, she reports to the community college district chancellor, her responsibilities include planning, organizing, and implementing educational policy and procedures to develop curriculum and student support services, budget management, and leading the institution's fund development efforts. And, among her professional activities are membership on the Board of Governors for City University in Bellevue, Washington; and service on the legislative and finance commission for the Association of California Community College Administrators.  She has been recognized for her professional and civic contributions by the National Council on Student Development and the Greater Lakewood Chamber of Commerce.
"I am proud of Dr. Erlinda Martinez and her dedication to providing a quality educational experience for students. Erlinda has been a true visionary in our community-college family, always promoting and advancing higher education for minorities and non-traditional students. We are lucky to have such an outstanding leader who deeply cares about her students and her community." -Congresswoman Loretta Sanchez
Martinez says, "My goal is to create an ideal environment where learning takes place from the moment the student parks his car until it reaches its class. I want the place to invite studying; I want students to feel safe- that this is their refuge. This includes what we look like; what services we offer; what facilities we have; our personnel. One of my contributions is deciding who will teach. Faculty departments interview candidates and I interview the finalists. I talk to them about education, community activities, I look for the individual who cares about students, and who is ready to take on obligations beyond teaching his class. It's a huge responsibility deciding who stays."
How does the majority respond?
They accept our objectives happily. The personnel we have, in addition to doing more for less, are part of the community; they bring new energy, new experiences, and the new generation was raised with new technology; they feel very comfortable with our new teaching programs. My contribution is to contract a faculty that is enthusiastic and efficient.
Let's go back to your personal life. Tell us about your children.
I have two marvelous sons. My eldest, Robert is 33; he works for a fashion company called QuickSilver. He travels to Hong Kong two or three times a year; he selects and buys material; I have no idea where he got such talent and vision. I still have no grandchildren but he's been going with a girl for several years as has my youngest son, David. He is 29 and is an electrical engineer. He was always good with his hands and he's the one that always wants to solve any problem I might have. All three of us live in Huntington Beach, we're almost neighbors. We have a very close relationship. I love entertaining guests, so we have a great deal of family reunions, and the family keeps growing.
At a family reunion five years ago, her uncle Rogelio, brother of her mother, gave her a metal tube with a top, it looked like a piece of dynamite, and he said, "I want you to have this." Martinez had no idea what it could be but she took it. He asked her to look inside. She took off the top and found a small picture of herself and he said to her, "This picture was with me throughout the Korean War." Her mother had sent it to him, and he took care of the tube like a good luck charm.
What's your relationship with your sister like?
We were always very close, especially after my divorce. We travel and spend weekends together. We took a cruise to Italy; we started in Rome, and ended in Venice. We had another one to Alaska, and this summer we're going to Central Europe. Gloria has worked for the VA since January of 2005 and I've been here since March of 2005. Our jobs are very stressful, so we bought a time share together in Las Vegas with the promise of taking vacations and resting a bit. And we're doing it quite well. Sometimes we take a long weekend and we meet in Las Vegas; she flies from San Francisco and I drive over there.
Gloria is executive nurse for the Veterans Administration in Palos Verdes- the largest organization of veterans in the country. Mike, her brother, is vice-president of a real estate loan company. Her father died and her mother is now 85. She lives in San Francisco with her sister Gloria who never married. Martinez has a close relationship with her brother also- he lives with his family and when her marriage was over she got very close to him. Her uncle Domingo, her father's eldest brother, is 91; he was an elementary school director, and he made sure he knew how she was doing in school when she was a child.
Do you have other hobbies in addition to traveling?
I learned to play golf at the school in Cerritos and I love it! We had tournaments to gather funds. I don't play often, but enough to have a good time and participate in tournaments. I also love the violin; I studied it when I was in elementary and continued until I married. At the school in Cerritos I played it once more in the orchestra and then I put it away again. I have brought my violin two or three times to SAC because I adore mariachi music and the instructor was very nice and let me participate in his class so I could play mariachi; I only played once publicly and I surprised many. I love music. My other passion is cooking and I do it well. I buy a lot of cookbooks and I watch cooking channels on TV. But I love being president of this college above all. I resolve one issue at a time- otherwise it could be overwhelming. This could be the greatest challenge I face, because I can't be everywhere always. Neither can I attend as many functions as I'd like. But I'm very aware that the college comes first, the community comes first and my family also comes first.
Santa Ana College is an institution dedicated to serving Latinos in every way. Martinez wants Latinos to know they have a place in this college; that the college faculty works for them to graduate; that they need to start their career; that they need to continue their higher education; and it's free. "We are an institution dedicated to serving Latinos with our heart. The list of successful people who came to our college is enormous; our hall of fame includes Jess Araujo, Alfredo Amezcua, Larry Labrado (on our board of directors), Carlos Bustamante, Gaddy Vazquez, (ambassador), Ray Carasco (professional golf player who said SAC motivated his successful career.) I have hired graduates from this college who today have doctorates, and have returned to teach. So our story, our legacy is not only a long life of 100 years but also shows the quality of our students; our graduates who return to give to the community all they learned in return," remarks Martinez proudly.
"Because of this school people have come to know 17th Street and Bristol. When something is going on they know how to get to SAC. Even Maria Shriver came to inform about an earnings tax credit program. People were lined up very early in the morning; nobody needed directions to the school- everybody knew how to get here. Bill Clinton came during Hillary's campaign for president. Congresswoman Loretta Sanchez called me on Saturday asking us to be ready for Monday morning, and in less than 48 hours we were ready for Bill Clinton's visit. While we concentrated on logistics, secret services, site, etc. people were lining up from 4 AM.  Santa Ana College, in addition to the variety of careers it offers and its great faculty, is the powerhouse and light for the entire community. Here we have all taken the meaning of community college seriously and we offer services and opportunities that perhaps may not be seen anywhere else. Santa Ana College goes beyond the borders of not only offering an education," concludes Martinez.
Martinez treasures a tapestry she carried from her home to every office where her career took her. It is of a woman with a basket on her head filled with food, holding a child by the hand, lavishing all that she has. Not long ago identified the sense that tapestry has for her. "I feel that women have always brought the the burden of humanity and this tapestry reflects all the admiration I have for them. They have always cared for her family, her people, carrying the precious responsibility of his family, providing food for all," says the doctor.
Martinez, like the woman in the tapestry she admires, who gives all, cares for Santa Ana College; she makes certain she informs regarding its higher education curriculum to those who have aspirations beyond what they are doing; she offers the key to success through Santa Ana ¡Adelante! So that like she did, future generations "return to the fountain for more," so that they might ascend to higher levels to enrich those who come after them; so that they enjoy the infinite grandeur of this country to bless those who try.
Filed Under: Outstanding Person • The latest
About the Author:
Comments (0)