admin | Feb 17, 2011 | Comments 0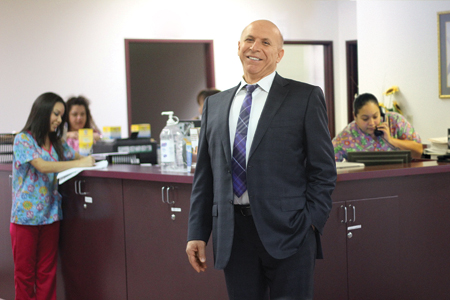 Dr. Jacob Sweidan is the president of the medical group of pediatrics and neonatology of Orange County. Pediatrics and Neonatology Medical Group of Orange County, was created to realize a more healthy generation and so that all may have access to health care; he studied and practiced prenatal medicine with the prestigious professor of neonatology, Bill Taeusch, an experience that converted him into an expert in pediatrics and neonatology. Dr. Sweidan created the first Association of Independent physicians in 1992 (Independent Physicians Association, Noble IPA Mid Orange County,) the first IPA in the county to help with the Latino community, 95% of its patients are Latinos.
Dr. Sweidan immigrated to the United States after receiving his medical degree in Romania, and after having practiced medicine for almost three years caring for critical cases. With only the $100 the American Embassy gave him upon entering this country, and the most genuine desire to give the best of himself, caring for those who were most in need in his newly adopted country, Dr. Sweidan focused on learning the language he didn't yet know; on understanding this new culture; on studying tirelessly until he was awarded all the necessary medical licenses that would allow him to practice medicine. Dr. Sweidan exceeded his dreams and today he is considered one of the most successful doctors and businessman by medical and all circles in Southern California.
"No physician I know works harder to develop his medical practice and take care of patients than Dr. Sweidan. He always makes certain that patients are fully cared for no matter the time of day. To be honest I don't know when he gets any sleep. I really enjoy working with him". Craig G. Myers -CEO Coastal Communities Hospital -Santa Ana
Dr. Sweidan was born in Timisoara, a city known for its parks and gardens, and also the third largest in Romania. It is part of the province of Transylvania, the most romantic part of the country. He was born to parents who were highly educated and conservative. The family had six children, four boys and two girls. Dr. Sweidan was the youngest and pampered by all.
"We had a small family but we were very united, especially me and my siblings. Of my grandparents, I only met my paternal grandmother. But she wasn't around for long. My brothers were older and already studying at the university and my sisters were married. I stayed home until I was 17. That was when I was accepted at med school. I left my town and went to a small university located in the center of Romania; I later returned to finish my studies in medicine in Timisoara," says the doctor.
Dr. Sweidan spent most of his time in the area of Transylvania, a place where people with very high intellectual levels reside; the people of Transylvania say they are from Transylvania and not Romania, a province bordering Hungary, Austria and Yugoslavia.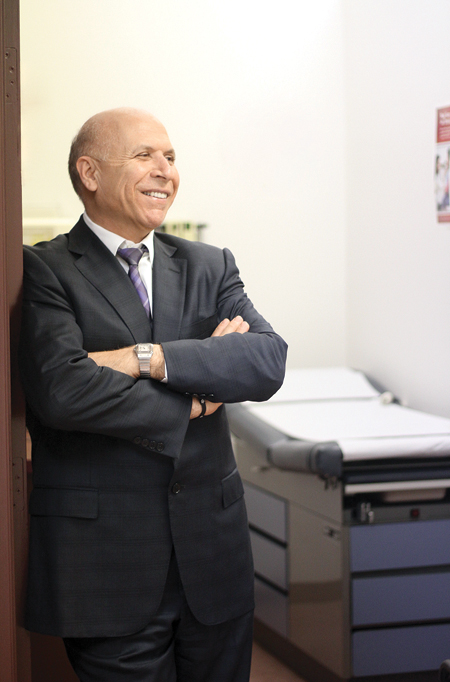 Was your father a businessman?
My father was highly educated. He was a businessman and also an orator, a thinker and philosopher who read and wrote many articles. He was extremely religious, he always promoted Catholicism; my mother stayed out of religion. When he found out I wanted to be a doctor he tried his hardest to make me change my mind.
Why didn't your father want you to study medicine?
He was an idealist, and he pointed out that in the city there were too many doctors; he wanted me to be happy and very successful, more spiritual. I told him a doctor could be very spiritual, help many people and do the same as the church.
And your mother?
She accepted my decision openly. My mother was an adorable woman. She took care of her family and was very generous. She loved spending time in her garden with her flowers. She cooked for us; she fed the neighbors; she was a very good woman with a big heart. She arose every morning at 5 AM to make us breakfast, making sure she sent us to school prepared and when we returned, our lunch was ready; our clothes were clean and immaculate. My father had guests over often, they came in search of advice; she helped them also. The house was open to the whole world at any time.
Which of your siblings was the closest to you?
My brother Andrew was my model, my teacher; he is two years older than I. I always admired him. He is intelligent and brilliant. He came to be one of the foremost students of the land; he had a very elevated intellect; I tried to reach his level but couldn't. He was very affectionate; daily he made sure that I took care of my responsibilities; he helped me in math. My two sisters were a lot older; they married young. Andrew left home when I was 13, to become an intern- they gave him a scholarship at a private school which was highly unusual. That school recruited only the best students. The scholarship included his studies, room and board. He left when I needed him the most, but he visited us every month. Papa also helped me but it wasn't the same; it was easier with my brother; we understood each other well and we were closer in age.
Why did you choose medicine?
I always liked helping people.  One day when I was six, my mother took me to see a doctor because I had a sharp abdominal pain. A pediatrician examined me and gave me a shot and the pain disappeared magically it seemed. Another child my age was crying disconsolately. In my young mind I felt very fortunate and I wished with all my might to be like the doctor who seemed to cure me magically. I wanted to help children the way he did. That desire lived within me, and when I finished high school I knew where I would go. My father would say, "This is a very difficult career, you have to study for seven years, besides there are too many doctors. Why don't you study like your brother- engineering or computers, there are not as many of them." But I was determined. My dream was to be a healer of body and soul; improve people's lives; take away their pain; make them healthier. That is what medicine means to me- to heal people, make them healthier and happier.
Tell us about your experiences as a doctor in your country.
There it was very different. After seven years of study, one had to serve in rural towns for three years to gain clinical experience. These were towns of 20 to 30 thousand people where I was the sole medical service. By myself I had to resolve all the medical situations in the town. I was a midwife, an emergency doctor, anesthesiologist and more. I didn't finish those three years because, my then wife Gabrielle and I, decided to come to the United States.
Where did you meet her?
At the university, she was also a student. We married when I was serving in the rural towns.
Medical training in Romania was very intense and complete. And in spite of the conditions given him to work in his country, he feels profoundly satisfied for having supported the wellbeing and worked exhaustively with those who needed help in there. Today the new generations enjoy total freedom and incomparable technological advances. Romania has changed drastically because it is now part of the European Union. Its infrastructure, transportation, telephone system, has converted it into a country as advanced as France, Italy or Germany; today everyone is connected to technology throughout the union.
Who decided to emigrate?
I wanted to come to the United State. There you didn't dare mention wanting to come west. We completed tons of paperwork. We were called traitors for wanting to leave the country and as we left our citizenship was revoked and we were not allowed to bring anything with us. We came as political exiles; they gave us a green card and work authorization and mountains of paperwork to complete. The Embassy gave us $100- all the money we had. After years of studying we were all but invisible here, but we were in a country where dreams come true.
Why did you come to Los Angeles?
Because we had some friends who lived there. We tried to locate them but we didn't find them until much later- through some friends who we made in central Los Angeles. After three weeks of having arrived, we connected through a Romanian church and met a man whose last name was Wise. He believed in us and rented us a room in his apartment, promising to pay as soon as we found work. The small room in North Hollywood cost us $160 per month. I'll never forget that room! Slowly we began to make friends.
Did you speak English?
No! We were unable to communicate and we couldn't find work anywhere. For three weeks I asked myself how we could survive without the language or money. I went to a convalescent's hospital to take care of patients. "I am a doctor," I said, but nobody seemed to hear me.
And your wife?
She also felt very frustrated for a while, but she fortunately started working as an assistant accountant in the House of Fabric. A young Russian woman had heard about a young Romanian woman who needed work, so she gave her the opportunity- she paid her $4.25 per hour. Happily someone else employed me as a phlebotomist on 7th and Alvarado Streets in the center of Los Angeles. They paid me $3.75 per hour. Between the two of us we were making $8 a day and almost $2000 a month. This was pure gold!
Later he found doctors from Russia, Armenia, Bulgaria and the Check Republic- some were surgeons, others physicians. Sweidan proposed they work together and so they started studying for the American Board. There were about six of them. His wife kept working and was unable to join the group. The doctor now worked five different schedules, because he had to make the money to pay for the exam- $800. If he didn't pass the money would be wasted.
"I studied and worked for two years tirelessly. The group took the exam together and we all passed. The search for a job started. Now we had a license, tons of potential but no one would hire us because of our strong accent and not being able to speak English fluently. Only one woman from Armenia was able to find employment in New Jersey and another in Georgia," says the doctor.
Dr. Sweidan passed the American Board with great success; but worse than that was passing TOEFL (Test of English as a Foreign Language) He really had a hard time. This exam measures fluency and knowledge of the English language spoken in the United States; if he could not pass this exam he could not practice medicine. When he finally did pass it, he sent out more than 200 job applications to places in New York, Philadelphia, Florida, Las Vegas, Alaska, California, Michigan and others. He needed to work. But they all asked about his experience in America…
So, what did you do next doctor?
I had 50 or 60 interviews but no employment. Finally I was called for an interview in Toledo, Ohio. The airline ticket from Long Beach to Ohio was $400, and so if I went and was not given the job, what would I do? I insisted on a telephone interview but they would not go for it so I flew; I had the interview and they told me I would start in three months. I returned to California and started preparing to move to Ohio but decided to travel by car this time- although it would take about a week. I was aware that as an intern I would only make about $12,000 a year; I had to be really careful spending money. Three or four days later I got a call for an interview at King Drew Medical Center in Los Angeles. They hired me and I started as an intern immediately. When I had two months to complete my residence I met one of the most prestigious neonatologists in the country- Dr. Bill Taeusch. The doctor came from Boston to King Drew to direct the neonatology department thus bringing quality and prestige to the center.
Taeusch refused to let him go.  But Dr. Sweidan needed to leave; he had bought a very large practice from a Romanian friend of his family located in Hollywood. It was very large but he was waiting until Sweidan finished his internship to take over. But Taeusch said "You are not going anywhere." His wife was very tired of his routine, but Taeusch told her to convince him because he should stay. Sweidan ended up taking a fellowship for two more years.
Did you stay at the center?
I didn't want to; I knew that with all the licenses and certifications I had I could make a lot more money than I made there, and besides I had to take over the practice I had bought in Hollywood. My wife worked tirelessly and was only making $1,100 a month at the same old job. Yet I feel I made the right decision upon staying, and I feel very fortunate to have learned a great deal working with the excellent professor. This doctor wrote and continues to write, many books and medical bulletins; in addition to being immensely respected for his vast knowledge and experience. After his practice with Taeusch everyone offered him a job.
By this time the doctor already had his first son Alex who was three and so Los Angeles presented some insecurity. Seeking a safer environment, the family moved to Orange County. Sweidan contacted a friend who was a Director of the Garden Grove Hospital who gladly offered him employment since he had many patients and was in need of assistance. He accepted and helped the hospital obtain its neonatology license; he did the same at Anaheim Tenet, training and licensing personnel. In 1996 he became the most active doctor in the county working with Children's Hospital of Orange County CHOC and UCI. UCI offered him a contract but he turned it down because it would cause him to desist from his busy schedule of taking care of patients and visiting hospitals 24/7/365- what he had done for the past 12 years. So at the hospital in Garden Grove he founded one of the most beautiful neonatal centers in the county, he licensed 12 more beds and despite being a mere mile from CHOC and UCI, Garden Grove had more patients than both centers combined. He also created the Independent Physicians Association, Noble IPA Mid Orange County and everybody thought he was crazy. "We help the entire community, we take MediCal, 95% of our patients are Latinos, we are the first IPA to establish this for the Latino community," he says with satisfaction.
Doctor, why your inclination to serve Latinos?
I grew up in a very conservative, religious family. I elected to become a doctor in order to help people, and when I arrived in the United States, after surviving the first two years, unable to neither speak English nor understand the culture, and living between the American and Hispanic cultures, I felt identified with it. I liked watching channel 34, soccer games, I played soccer when I was a boy; I understood Spanish because Spanish and Romanian have the same roots, they both originated with Latin. Romania is the only country in Eastern Europe with a Latin language- so I understood Spanish a lot better than English. Verbs are conjugated the same and when I first listened to them I thought they were speaking a Romanian dialect. If you speak Romanian you can also speak French, Italian, and Spanish easily.
The doctor observed how Latinos struggle and their lack of access to health care; their effort to learn the language and adapt to the new culture. He felt identified with them and he decided to care for them. "I feel good about caring for them; these are people who value, appreciate and respect. I have patients who I've had since they were born- one girl was born premature in 1992; she weighed 580 grams and was blind. I cared for her for seven months in intensive care until she was big enough to go home. She and her family are very grateful. She is now a young lady and it makes me so happy to see her all dressed up, with earrings, her hair looking nice in her wheel chair- and everyone so thankful to me for saving her life. One of her sisters had her baby here and I have many other tender stories. That is why I decided to serve the Latino community- for their warmth, gratitude and the sense of family they have. This type of gratitude is not the norm with people who live in Newport Beach.
His medical group Strong Families – Strong Kids in Santa Ana, Anaheim, and Garden Grove is very active in the county and also takes care of those without medical insurance. "The objective is to achieve a healthier generation and that all have access to medical insurance," he says.
Tell me about your children?
I have the two most adorable boys in the world. I feel blessed for having them. Alex is 19 and Andrew 18. They are the power that keeps me working tirelessly; why I offer more services for my patients and assure myself that they stay healthy. They and my practice are my passion.
What does Alex do?
Alex graduated from high school and continued his studies at the University of Santa Clara in Northern California. He was one of the best of his class. Next he decided to continue his studies in Europe and he got a student exchange for three years in a school in Poland with American standards. He's been there since last year, and when he returns he'll finish his practice here. I helped him move and for the New Year he visited us here. We speak on the phone daily. He is very happy; he's studying MDPAD biochemistry, he has published health journals, he does investigations, and he is studying with one of the most prestigious professors in biochemistry at the University of Pozno in Poland. He loves what he is doing. Alex has a scientific mind, and what he is studying is very difficult. He is investigating the fetus before its evolution and he is trying to discover the causes of birth defects by studying their origins. He believes he can change DNA at its origin.
And Andrew?
This year he is helping me; he wants to be a paramedic and then continue in medicine. He is very spiritual, does yoga, now he's studying Buddhism- he goes to the temple twice a week and is a strict vegetarian. In spite of his youth, he would like to go to Africa to help the neediest, those who have nothing. He doesn't want a house, just a small apartment thus serving people for free. Andrew is a lot like my ex wife- his mission is to care for people without charge.
Do you have a hobby?
I like to exercise; unfortunately time is always a problem; I like to ride a bike- I try to do it on Sundays on the beach, I ride five or six miles. But what I like most is traveling. I have been to South America, Mexico, Peru- I visited Machu Pichu, the Amazons and I would love to visit Argentina. I have gone to Asia, Hong Kong and the Soviet Union. I visited Israel, Jordan and Dubai.
What was Dubai like?
I'll never go back- it's only buildings, no culture, nothing more. In Italy, or Paris- you admire each building. Dubai is expensive and the people are not friendly- there are four or five million people of which 90% are foreigners.
What is your message to women?
The most important message I have for them is that they must take charge of themselves and take care of their health, it is extremely urgent that they do so. They must stay informed, educated and prevent. I emphasize the necessity of mammograms. The number of Hispanic women who do this is scarce. I understand that culturally they don't feel comfortable, and that the procedure is uncomfortable, but you can save a life, we are seeing many cancer cases and this can only be cured if caught on time. Come! Call! We are even willing to pick you up and bring you back home if that's what you need. You need to learn to take care of yourselves, protect your lives and prevention saves lives. We are asking every woman, every mother to have a mammogram, a Pap smear, an HPV test. HPV is a virus that can cause cervical cancer. There is a vaccination that eliminates it by 90%, and we are giving it to all women and men; we recommend you get this vaccine. Hispanics don't believe in mammograms or in vaccines but these save lives. The Hispanic community is not doing enough to take care of itself.
Dr. Jacob Sweidan possess a tireless energy which he dedicates to keeping his patients healthy, informed and with the best possible medical services, besides creating clinics and programs with the same goal. He drives 3,450 miles a month attending to patients and controlling health organizations or giving conferences to the community. He thoroughly enjoys what he is doing. He feels highly motivated and he does not want to lose any of the opportunities this country offers. Besides, he wants to do this and much more for the well being of all the community and for his family and children who he adores.
Interpretation by Peggy Edwards
Filed Under: Outstanding Person • The latest
About the Author:
Comments (0)