admin | Aug 23, 2010 | Comments 0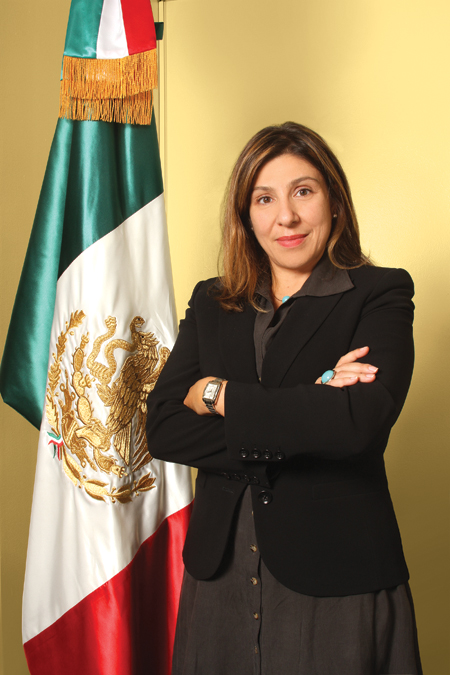 Mexican Consul in Santa Ana
Discretionary and tenacious, Alejandra Garcia Williams knew how to select and defend what had value in her life early on. Excellent student in high school she decided to get to know the world and ended up learning Dutch without even trying. When recently graduated from the university, because of her capacity and dedication to her studies, one of her professors recommended a job, putting her on the path of upward mobility in her career, replete with challenges, higher studies and within an unimaginable diplomatic ambience where she is outstanding. We commend her due to a job well done, her sense of responsibility, and a commitment to her country, which she has always served in many different capacities.
Alejandra Garcia Williams holds a degree in International Relations from the Iberoamerican University in Mexico City. She continued her graduate studies at Oxford University in the United Kingdom, in finances and international politics. She is a career member of the Mexican Service abroad; she was an auditor in the coordination of migratory affairs, Human Rights and Drugs to the Secretary of Foreign Relations. In 1994 she was assigned to the Mexican Embassy in the U.S.A.; assessor to the Secretariat of Foreign Affairs; assigned to the Mexican Embassy in France and functioned as a Mexican delegate before the OCDE. In 2007 she was Consul in San Francisco and since December of 2009, she has been Titular Consul in Santa Ana.
Alejandra Garcia Williams was born in Mexico City, inheriting a rainbow of nationalities. Her father, Alfonso Garcia Holder, of Spanish heritage, and her mother, Sylvia Williams Rivas, English, were both born in Mexico immersed in the customs of their ancestors. Alejandra Garcia Williams has an older sister, Sylvia, she follows, then her younger brother Alfonso. She grew up in an atmosphere of life in the open air, sports, and a lot of love but strict discipline by her father.
"My maternal great-grandfather, Camilo Williams, founded the English school in Mexico City in 1899. During the Mexican Revolution he emigrated from Mexico to the U.S.A. to live in Los Angeles where he founded the ?Williams International School.? His eight children continued the school in Mexico. In 1928 a school for young ladies was founded under the Professor Camilo?s daughters. In 1976 Alejandro Williams, third generation opened a school in Cuernavaca, Morelos. Today there are four Williams schools all directed by members of the family. My mother was raised in this environment but also in the world of sports and art, where she stood out as a pianist, painter and tennis player. She played from the time she was a child and she met my father at a very young age at the sports club of Chapultepec,? she says proudly.
"I?m the middle child, the sandwich child; they enrolled the three of us in everything. Since my mother was a very good dancer, she took her two daughters to ballet, believing we were like her and we were like pink elephants! We didn?t dance well so she opted for having us learn guitar, organ, piano; we played tennis, baseball, basketball. She asked me one day which I preferred of these and I answered 'horses'", she tells us amused.
Horseback riding was her life. A paternal uncle had very pretty horses, so on weekends she went riding; he was one of those formidable uncles, a fantastic old man, who looked like Pope John Paul II. So with him and his daughter she went riding every weekend in his fields. She thoroughly enjoyed this stage of her life. Alejandra is fascinated by animals, horses, dogs, felines. She always had a friend with a tiger or lion and one of them is the owner of the Zoofari Zoo which is between Cuernavaca and Tesquetitengo. Her greatest happiness is to be invited to experience his felines, in his lovely zoo.
Who in your family has that inclination?
My mother. My father wasn?t crazy about animals, he was rather repulsed, he couldn?t touch a hair on an animal. Although physically I am very much like my father, I have a lot of each of them.
"My father was strict, you had to follow his norms and our behavior was limited. We had to be responsible, be careful with money, nothing was taken lightly, everything was for a reason, there had to be a reason for a gift. He talked a lot with us and he taught us about everything. He was a gynecologist, his passion was cars- he had a collection of beautiful cars. Early on we rode in all kinds of cars, at first on his lap in order to reach the steering wheel. We learned to drive an old Volkswagen. I drove trailers, a motorcycle; I took several trips to Acapulco on a BMW 1000 motorcycle. Sundays we helped him clean them, we had a little chair to clean tires, and rags to clean this or that. I had an early childhood very close to him. I felt as if our mother was closer to my siblings, later I learned she supported those who needed her most. I was a very good student. When I finished high school I wanted to travel to learn French and I ended up in Belgium at 18, learning Dutch,? she says amused.
Why Belgium?
Because of an opportunity of student exchange, since I spoke English and some French, they decided to send me to Belgium, to the Flamenco zone where only Dutch is spoken. You tell me! Surely I am the only Mexican who speaks Dutch. It is a very difficult language but I learned to speak it even better than Spanish, after a year of speaking nothing but Dutch you learn, and as you can tell, as talkative as I am there was no way to stay quiet, and so obviously I learned.
In Belgium Alejandra repeated her last high school year and after a year, she returned to Mexico and studied Foreign Relations at the Iberoamerican University. Alejandra lost her uncle Roberto, her father?s youngest brother, in the 1985 earthquake, by miracle, her aunt and her children were able to survive. Her uncle was very young. She was at the university when the earthquake occurred, another school in the area had fallen, the chaos was total, and nobody was able to travel around the city so she stayed at a friend?s home for a few days. She studied four and a half years at the university and she had a great professor of International Rights, Miguel Angel Gonzalez Felix.
?When you finish your studies you think everything will be easy and you know it all. The truth is you don?t know anything neither are you as brilliant as you thought, nor does anyone give you a job just because you got a degree or were the best in the class. The labor market is very different to the university,? says Alejandra.
She tried unsuccessfully to get a job. At the time Fernando Solana was named Secretary of Foreign Affairs, he invited Miguel Angel Gonzalez Feliz to form part of his team as coordinator of Human Rights and Migratory Affairs and since Alejandra thesis was related to human rights (Mexico-Guatemala: Refuge and Asylum) Miguel Angel offered Alejandra the position of assessor for the Solana project. "Assessor? Sounds good right?", she responded surprised.
She began to work with Miguel Angel Gonzalez, an outstanding human being; she learned a great deal, she worked with a prominent group. She travelled with the Secretary and with the general directors, she assisted in important meetings, she was only 24 years old. There was a lot of pressure in the area of human rights, migration, but it was also gratifying, she could help many people. One of the sub-secretaries proposed working in Washington, an offer she accepted delighted.
How does one ascend in this field?
By ranks and exams one takes after a minimum of two years in a position until reaching ambassador. The president then names the ambassador. I, for example, have to have a minimum of two years in this position to take an exam to ascend the ranks. There is also a file with your grades, your experience, your history, everything is taken into consideration.
She started working in Washington, there is some tension in the U.S. regarding immigration but generally everything goes well. ?There were only women in the INS (Immigration and Naturalization Service), things were managed very well and there was a good relationship between Mexico and the U.S.A. This was a period of a lot of work and a lot of learning. There I had team mates who are still friends. There was the Minister for Public Affairs who is now ambassador to Israel, there was our present ambassador from Mexico in Washington, Arturo Sarukhan, there was Jose Ramon Lorenzo, who in now in Geneva, in all a group of marvelous people. There was also the sub secretary Juan Rebolledo, who I very much appreciate and who offered me a grant to study at Oxford to study politics and diplomacy, although I wanted to study International Rights,? says Alejandra. But the sub secretary convinced her. ?You will have the opportunity to study at a place that is divine and to meet many interesting people!? he commented.
It was a select group of 35; Alejandra had to study a lot, read at least five books a week; it was harder for her than for those 25 but she treasured this academic ambience, sitting in the library, enjoying the gardens, admiring the city, its history, she was enchanted. She made friends with those who had the most experience- someone from Japan and from India. They had been in the United Nations, been representatives and travelled a great deal. Their experience allowed them to understand and participate in more functions, with multilateral themes of refugees, human rights, immigration, thus enriching herself with even more valuable knowledge.
How did your parents feel about all your attainments?
My father was very proud of me and would say that for sure I would be the ?Chancellor of Mexico?, which was why he didn?t fathom me married. Mother, on the other hand, said, ?I would like to see you accompanied, you always had good suitors, excellent boyfriends but you cannot make any commitment!? My goal was not to get married and have children at the time.
She returned to Mexico as assessor for the ambassador Rosario Green, she took care of issues regarding Europe, the United Nations, women, and a few on human rights. They were difficult but fruitful years; she became an expert editor of speeches. She also shared the time with Federico Salas, Arturo Sarukhan, and Jose Ramon Lorenzo, great teammates and friends.
What did you do next?
I commented to Secretary Green that I would like to go to Europe to expand my labor experience and consolidate my French. I ended up in Paris. She was very happy there; she worked with a great ambassador, and within two months she attended a girlfriend?s party. ?As always someone wants to introduce me to somebody, it made no difference to me. One had a castle, but I wasn?t interested; this so and so, and that widower has a child! No! But on that occasion even papa said, ?What do you want? You are about to lose your devil?s veil, in other words your youth. I was 34 when I met Remi and liked him. I spoke to him in French and he in Spanish until I said, ?You know what, you can?t speak Spanish and I can?t speak French, why don?t we try English?? Remi seemed like a nice person, we danced and conversed pleasantly, but I didn?t think I?d ever see him again.
"Time passed and one day my assistant, Aurora, answered a call from a Remi Lacombe, I had no idea who it could be. I told her I was busy. We were preparing a breakfast for impresarios from the embassy. He insisted, I can?t remember even having spoken to him. After that we started dating. One day we went to the opera, and neither of us knew much about opera, all we said was what a lovely work by Puccini! We had dinner with the Eiffel Tower in the background; it was so romantic he started winning me over. One day he asked me out, I told him I couldn?t go because my aunt Marcela and mother were visiting and he replied he?d pick up the three of us! I said no, but he answered: I want to meet them. So we went out together that day. Mama was delighted and said, 'My dear he is handsome and nice.' My mother did want me to marry; she wanted to see me well-accompanied. My mother enjoyed my romances; she would stay up until I came home after a date to know how it went. She enjoyed listening to me, she was very young and we had more of a friend?s relationship rather than mother-daughter. We started dating more and a year after meeting he proposed to me and we were married in 2002; the civil wedding was in Paris and the church wedding was in Mexico. Today my husband is perfectly fluent in Spanish and speaks like a Mexican,? she says happily.
Anne-Sophie was born in 2003, her mother travelled to Paris to visit them. Alejandra was very surprised she had quit tennis and lost weight, although she looked well, she was very beautiful, but she had terrible, recurring stomach aches. She spoke right away with her brother and he told her he thought his mother had something more serious than gastritis. Shortly pancreatic and stomach cancer were diagnosed. Her mother took the news surprisingly well. Sophie was only a month old. She quickly packed up and went to visit her. She spent her last days with her; when she returned to Paris she knew she?d never see her again. ?The only thing I feel bad about is not being able to spend more time with your baby but I leave in peace.? She said. Alejandra named her daughter Sophie because it was a name her mother liked a lot, Alejandra liked Isabella better. Her father lost the will to live and the following year he died. She also spent time with him before he died. In September Anne Sophie will be seven.
She moved closer to her loved ones and learned the functions of a consul by moving to the U.S. In 2007 she was named Consul in charge of the Mexican General Consulate in San Francisco and functioned there for the following two years as assigned Consul. December 1, 2009 she was named Mexican Consul in Santa Ana.
What does your husband do?
He is a civil engineer who works for a company involved in technology and software to improve the photographic images of cell phones. The company opened an office in the Silicon Valley very close to the home we had in San Francisco so the commute was easy. It is very important for him to work in his field. The distance from this county now is much greater but still possible. Presently he is in Korea, since he is sales director of the company he travels frequently.
Remi achieved a Masters at Stanford and he liked California a lot. He loved to meet people and travel. He is from Rodez, south of France, lovely landscape surrounded by mountains, near Toulouse, an agricultural area. His father, a very important man in agriculture, was a great union leader for farmers. Remi is more of an intellectual and he never brags about anything. His father died but his mother is still very dedicated to the country.
What are your immediate plans?
I plan to stay here for the next two or three years, so I can really realize projects to assist and improve the lives of my Mexicans in Orange County. Generally you are assigned for three to four years, you have to orbit to different atmospheres, different areas, you have to fulfill your commitment depending on that country?s needs and chancellery. What they want is stability- working with the community, improving and strengthening services and those related to authorities. This is what I have been doing, because having better relations generally with the authorities and the community is the only thing that can improve the quality of life for our people.
But I feel people miss seeing you, talking to you, being more in contact?
I really try, at least with my communities, to be aware of groups, of federations, we have a monthly meeting here with all the community representatives, and I am here for everyone. On the other hand I have a very full agenda considering authorities, academies, agencies, and all the facets of what I can do which coincides with the daily lives of my people because they will help me when I have a problem or need. We are also trying to prevent illnesses in the health field. With my communities Consul, I want to avoid serious illness, because it is hard to get free help. We have different clinics that come to the consul and offer their services such as dentists, gynecologists, and even a surgeon general.
What is the most urgent part of your agenda?
What is urgent here is to offer protection to Mexicans. We have to protect our women, how people are treated, human trafficking, domestic violence, children abandoned due to deportations, that is to say, we have a Protection Department loaded with different issues, and we have many valuable people and services to assist them. My relations with the authorities are pivotal because when I call them I get an answer. One of my most important jobs has been to get to know everybody, so they are aware of what a consul does and so that at a given moment we may exchange information and I may help my people. This area is very important to me. Here we are not talking about one case, or document, this is about human life, a person?s life. You are dealing with suffering, with necessity, with a difficult problem in someone?s life. I want to have an agile department, ready and prepared, that follows-up on cases quickly and helps them. We have a good group of attorneys that in addition to what we do lend us a hand. I would also like to see improvement for the quality of life for my communities. And how do we do that? I realize it is through education and health. You can?t change the world in a day, but you can add your grain of sand, and how do I do that? I do it through Informative Workshops, through the Window of Education, Window of Health, through specialists. I am also very interested in family planning; it is of utmost importance that we understand that having children is an enormous responsibility which is a very important job and it is for life.
And this is a very important year because it is the bicentennial of Mexican Independence and centennial of the Mexican Revolution. It is part of the consulate?s business to inform regarding these dates and their historical and traditional value, not only a celebration. We have put together a museum in the consulate with photos from the Casasola archives sent from Mexico; I am using local artists who have drawn all the heroes of the revolution and independence. I have designed an area for the children with books and games to entertain them. Then there is how to strengthen and improving our people and what we need to accommodate and really do a consular job worthy of a Mexican government representative. That is why we?ve tried to dignify our space by painting it and arranging it within our possibilities. The economic situation is poor for all countries and obviously our country is making an effort not to build a new building but to help people. The present administration wants to see our people protected and that is what the consulate does, that is where we are headed. Assist, support, help our people and see how through all of our departments, we improve the quality of their lives.
What is your message for the Mexican woman?
The most important issue for women is to realize we have potential, we need to get educated, and we have to depend on ourselves, in all that is possible. I don?t mean with that that I am your typical feminist and that men don?t need to participate, no, but that we are worthy. We must always be dignified, don?t ever lose your dignity. Be a woman who you can believe in and let yourself be guided by your feminine instinct. We women have a way of doing things and capacities that honestly, with a bit of pushing, we can accomplish a lot. Have high expectations. You need to believe in yourself to come out ahead.
Filed Under: Outstanding Person • The latest
About the Author:
Comments (0)